Do You Need A New Routine?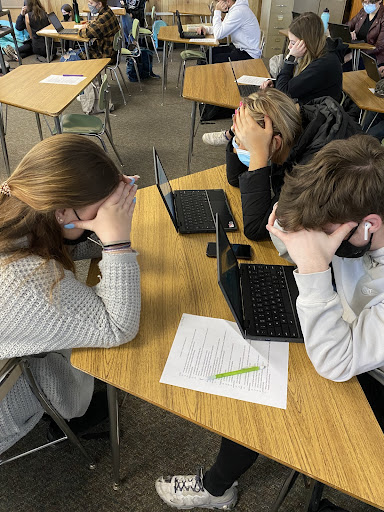 School scheduling is a very hard thing to manage because it needs to work for everyone. Creating a schedule that works for both students, teachers, and non stressful is very important.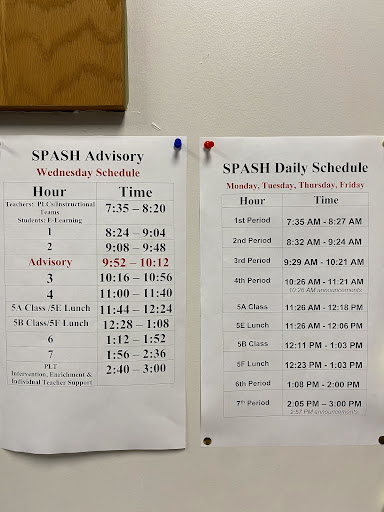 Does our schedule have a positive outcome? 
There are a few good things about our schedule now. The Principal, a teacher and two seniors had very little good things to say about the schedule.  Mr Vollendorf, Principal at SPASH states the positive outlooks on our current schedule. "Our biggest benefit of our current schedule is that it is well established and well routined. We added teacher meeting times every Wednesday morning and PLT to help students get more help." 
Damian Cejka, Senior at SPASH tells us what he thinks of the schedule:  "I like how classes are around 45-50 minutes give or take. Wednesdays are the best and we should do it more often." 
Liam O'Keefe, also a Senior at SPASH describes how he sees the schedule. "I personally like it, some classes it's more challenging but all around, it has an easy way of knowing where to go everyday. I have a routine" 
Hybrid Block Schedules? 
A majority of the students and teachers think that having a hybrid block schedule will benefit lots of people. Ms. White, the Journalism teacher at SPASH explains her feelings towards going into the Hybrid schedule, if we were to do that and how that could help not just the students but the teachers as well. "I think it takes a while, to get started everyday in class, it would eliminate the struggle of rushing. It would sustain more time for activities and having a full class of one thing instead of breaking it up. More creative, then going to the same class 5 days a week. Like college classes having them be 90 minutes, preparing."
 Mr. Vollendorf, Principal at SPASH says his views on going into the Hybrid schedule, stating that we'd had more time for students, teachers and anyone who needs more help. "Lots of extended learning time, more time for teachers to prepare and plan and more time for students to get more of the help they need." 
Damian Cejka, Senior at SPASH says he would like to go into a Hybrid schedule, less stress and more work time on the classes that he would have for the day. "Sleeping in, more stress relief because we would only have 3-4 classes a day, less workload, more free of what we want to do."
Is changing the schedule too overwhelming for people? 
Having constant change to a schedule can be hard to get settled with one. Liam O'Keefe, Senior at SPASH talks about how when having a constant change is hard because you can't plan it and having a smoother schedule you could plan and it would just be all around easier. "It would be easier to plan, consistency of it would run smoother." 
Damian Cejka, Senior at SPASH gives you positive ways at looking at it but gives you a reality of what happens and how it affects everyone. "They have some negative facts, you can never get into a consistent routine, more stress with constant changes. Positive outcomes with something new everyday you don't have to go into the same classroom everyday."
Ms. White, Journalism teacher at SPASH brings you back to last year and how much change has happened with both good and bad and how it wasn't the easiest way around things, even though we made it through. "I think last year was hard because we had a lot of changes in the schedule. I think it is refreshing to have a different time, longer some days and shorter the others. I think at this point we are ready for a change in the schedule. PLT having it makes it feel optional, students don't use it as much as they should be." 
A takeaway a reader should have is realizing what a schedule change could do to people, how it could help or make things work in different ways that not everyone realizes. After reading, reflect on how or if the school schedule affects you and if you connect with some of the ways other students do in order to adapt to it.