The Rise And Fall Of Blake Griffin
Do you know who Blake Griffin is? If not, this is the story of Blake Griffin's Rise and Downfall of his NBA career.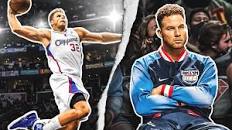 How did he start playing basketball?
Blake Griffin started in college at the University Of Oklahoma. He is always interested in playing other sports like baseball, football, and his favorite sport of all time basketball. Blake got to the college basketball league for Oklahoma, their team name is the Oklahoma Sooners started his sophomore year in basketball.  Griffin won four high school state titles at  Oklahoma Christian School under his father, head coach Tommy Griffin. Griffin played two seasons of college basketball for the Sooners before entering the 2009 NBA draft. 
NBA Draft and famous plays of the Summer League 
In 2009-10, there were three teams in the NBA that are top 3 to get Blake Griffin as number 1 pick, three of the team's are Memphis Grizzlies, Los Angeles Clippers, and Oklahoma City Thunders. The Los Angeles Clippers were picked number 1 in the draft and picked up Blake Griffin.  In the NBA Summer League, there was one explosive play of Blake Griffin's career. He did an explosive windmill dunk and he shocked the crowd, NBA players and coaches. 
Work Ethic
Ethan Terry, Junior SPASH student said  "Blake Griffin averaged 21.8 points per game and when He came back in 2010-11 he scored 20 points 14 rebounds against the Portland Trail Blazers in his first NBA game, he was already the best player of the 2010 NBA era.  Ethan Terry, Junior SPASH student, I told him about what he loved about Blake's game. "I love his game, he is such an underrated player. He got that skill for showing pride in his game and he feels confident about dunking on people and does not care if they are taller than him, he's not scared to dunk anyone." I know how Ethan Terry feels. He cares about Blake Griffin's career, right now it is hard for Blake Griffin's career to move on from basketball, because he is such a great player for the NBA and he loves to entertain people around the stadium.
Why he did not win MVP
Jason Olsen, Junior SPASH student said "Lots of injuries making Blake Griffin give up on his award for himself, Although, he was placed as top 5 in the voting MVP discussion. Griffin losing his spot at getting an MVP award, his career was ruined and it led him further down as a bench player." I can see why Jason Olsen gave positive answers he gave me during the interview. He showed why he understands Blake Griffin's NBA game and listens to the ESPN broadcast[for information] about Blake Griffin's injury problems and why he ain't playing like himself anymore.
Blake Griffin's Downfall 
Blake Griffin always had some bad news when it comes to injuries, mostly his downfall is about how much he averaged in a game but that was when Blake Griffin was never  going to play basketball for a month for his lack of ankle and knee injuries. When Blake was able to play he wasn't playing like himself anymore and averaging lower numbers then before.  When Blake Griffin was traded to the Detroit Pistons he only played 37 NBA games out of 82, he had a knee injury again that kept Blake out for months. In 2021, he joined the Brooklyn Nets as a starter for PF(Power Forward). Blake made it to the playoffs with the Nets alongside with Kevin Durant and Kyrie Irving, they defeated the Boston Celtics in the first round of the playoffs. In the semi finals, They faced the Milwaukee Bucks making it 3 and 3 in the series. Sadly they lost but had a great series in the playoffs. In 2022, Blake started to struggle with how he's playing with the Brooklyn Nets, the coach Steve Nash benched Blake Griffin for the rest of the preseason game, if he improves his game, but Blake has never regained his position anymore as a starter. Finally in the 2022-23 off season he was a free agent, The Boston Celtics gave him a second chance by signing Blake Griffin to their brand, The Boston Celtics are the number 1 team in the eastern conference right now so Blake Griffin has avenged to become NBA champion to get his first ring ever. 
Finale 
I'm worried that Blake Griffin is not going to accomplish his goals of becoming an NBA champion. People need to see the reality of big basketball achievements, because not everyone can achieve their goals, but maybe one day Blake Griffin will be successful in his career.