SPASH Surrounded by Art
Are you feeling misunderstood? Go to an art museum! Being surrounded by colors and emotions will make you feel heard. Surround yourself with art. When around art and creativity, stress levels decrease, creating a better learning environment. Inspiration sparks channels into different perspectives and critical thinking, and just being around art is fun. Adding art in our hallways at SPASH creates an artistic environment which SPASH should do to provide positive impacts on mental health, better learning, self-expression, and creativity
Arts affects creativity
Surprisingly, art can be a tool for a positive mindset. Kate Jenkins, Sex Discrimination Commissioner at the Australian Human Rights Commission since 2016, has studied mental health and the arts for 8 years. She recognizes that art does have an impact on your mental health. She states, "There is a special regard for a philosophy that recognizes creative arts activities as a valued tool towards rebuilding people's lives and their sense of wellbeing. Based on my practice and involvement in projects as an arts officer with Country Arts SA, I have experienced how the arts have an integral role to play in the field of mental health" 
Art is a tool of expression where conversations can be sparked from gaining new perspectives and there is a purpose of creativity, Jenkins says, "Involvement in the arts provides
individuals with an experience of mental illness an opportunity to give purpose to their lives, a voice in their community"
Jenkins speaks about an arts worker who was a rehabilitation service officer and an artist with mental illness who set up a group in 1996. They discovered there was a demand for a safe space for people who experience these mental health issues with an interest in the arts. They went on to create that space. Since their initial stage, Arts for Us has participated in state conferences and community projects sharing their work, giving poetry readings, and painting community banners and murals. Jenkins recalls, "In my experience, the health outcomes mentioned above are not chancery. They highlight the importance, affirmed time and time again, of the use of arts in mental health."
Art is a tool for mental challenges
Art in our school would also improve how we learn. The article Art for Self-Care and Mental Health – University of Washington states, "Studies have shown that expression through art can help people with depression, anxiety, and stress. Art has also been linked to improved memory, reasoning, and resilience in aging adults." Being in high school there are a lot of roadblocks with mental illness and finding an outlet for them makes a huge impact on problem-solving skills, introspection, and life in general. 
Meaning, the sole action of creating something reduces stress by lowering cortisol (the natural stress hormone). Being able to have a time where you can let your creativity flow can create a huge difference in your day. The University of Washington also noted, "Study after study shows that drawing, doodling, coloring, and simply creating something for 20 minutes reduces cortisol. The best part is that previous art experience is not required to reap these benefits." It's as easy as that, no experience is needed to use art as a stress reliever. Anyone can do it
Incorporating more art into SPASH
Being exposed to art alters the environment. Noah Calhoun an art teacher at SPASH speaks on how art has improved his life in many ways, he states, "[Art is] definitely a passion of mine, since elementary until college and I wanted to share that importance with students through teaching." He then goes on to say, "art affects my mental health positively" through expression Calhoun can work through roadblocks and use his passion to better his life. 
Displaying student art throughout the hallways whether it be a rotating display or mural students worked on creates a reach to other students to inspire them to create their own art. Calhoun mentions. "Adding more displays that are permanent or temporary for student art would be a great way to incorporate students into our school, especially in the art department." There are limited options for students to be able to display their art for the rest of the school. The displays seem tucked away and have less of a reach. Having more originality in the school creates an artistic environment that instills creativity.
Student opinion on art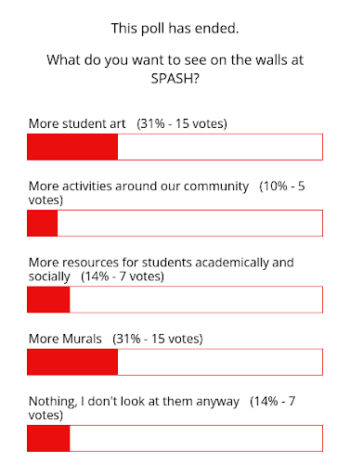 A poll was created in The Mirror SPASH newspaper. The evidence shows more murals and student art is favored by students. Bree Singewald a SPASH Juinor adds, "I love the art upstairs I just wish we had more all around the school, especially the bright and engaging ones." Having more bright and engaging art stimulates inspiration. Bree speaks about how in her experience more artistic ways of learning were the most successful, "I learn better when my teachers use engaging artistic examples or activities it just makes things more fun. It also is a great way to express me and my emotions." Art is a great way to engage in self-expression and learning.
Overall, art is an amazing tool to express yourself and to learn easily. There are many different ways to utilize art and incorporate it into your life, in any way. There are benefits and solutions to some of life's toughest situations within art. Utilizing art in our school to create a bigger reach and expose more students to expressiveness helps inspire you.