The Process of Crocheting a Sweater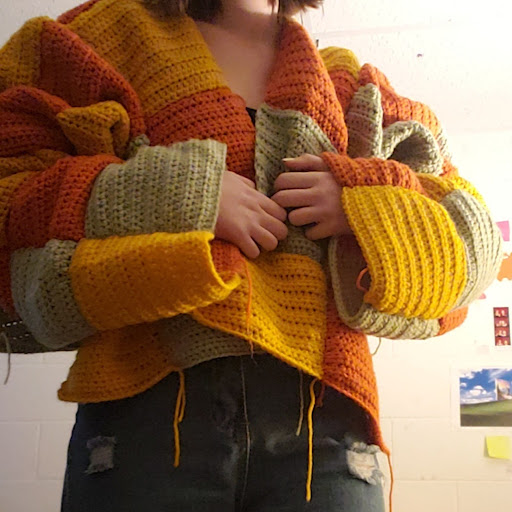 Anyone can crochet. Now that may sound like a bit of a bold statement, but it's true. Crocheting isn't that hard of a skill to learn, but it can be very time consuming. Over the course of dealing with Covid-19 and quarantining, all of us picked up a new interest or hobby to help us pass the time easier, and my hobby was crocheting. I started crocheting in May of 2021 and gave up on the bag I was originally trying to make. I then didn't crochet until November 2021 after I went to Thanksgiving dinner with my family and learned that my grandma used to crochet and was excited that I had started to learn too. This inspired me to want to make something again.
When looking for something I would want to make I wanted it to be something that I'd actually wear/use a lot. I started my search looking for patterns and YouTube videos that could give me the general idea of what I wanted to make, and I found Eliviona Halim's video titled "Crochet Patchwork Sweater | Harry Styles Cardigan Inspired." While I didn't follow her pattern exactly, I was able to end up with a similar product that I am happy with.
 But first I wanted to take the pattern she made and alter it to the colors of yarn I used. I used the Red Heart Super Saver Yarn in the colors Carrot, Tea Leaf, and Gold. I needed 250 grams of yarn of each color, and an extra 100 grams of yarn for the ribbing. When starting off each piece of a project, you have to "chain" how long it's going to be. All my squares I made were 23 chains long and about 16 rows tall. I also need 51 squares total, 17 of each color.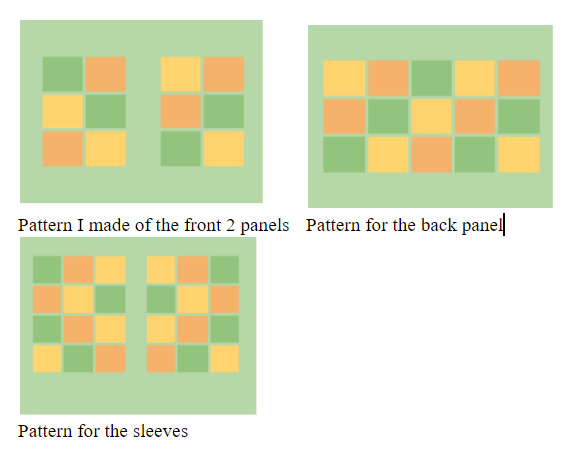 Time to Start the Project
I started off making the squares and once I got about 3 done I realized they were smaller than I wanted because my tension was too tight while I was crocheting. This just basically means 
I needed to loosen my grip on the yarn which took a little getting used to. The kind of stitch used to make the squares is a half-double crochet, and to learn how to do that I watched GoodKnitKisses video titled "How to Half Double Crochet.'' Luckily, I was pretty quickly able to understand how to do the stitch. 
Crocheting just one of the squares took me around 1 hour to complete, having had to crochet  51 squares it would in theory take me around 51 hours just to finish the squares alone. This doesn't include the time it takes to sew the squares together and make the ribbing pieces; knowing how long it would take after I was about half way through the project kind of made me lose motivation for a bit, but I powered through and once I was about halfway done with the  squares, I gained motivation to get it done. I figured already being halfway through, there was no turning back now. 
One way I find motivation to crochet is putting a show on in the background while I crochet. I find this very helpful to not get bored quickly and allow me to watch the things I want to watch while having something to do.
After months of working, I was finally able to finish all the squares! This project took a lot longer than I was expecting, but seeing all the squares done gave me the motivation to power through and sew them together over our week of e-learning. I definitely shouldn't have stayed up as late as I did some nights, but I definitely think it was worth it.