SPASH Boys Basketball New Year Update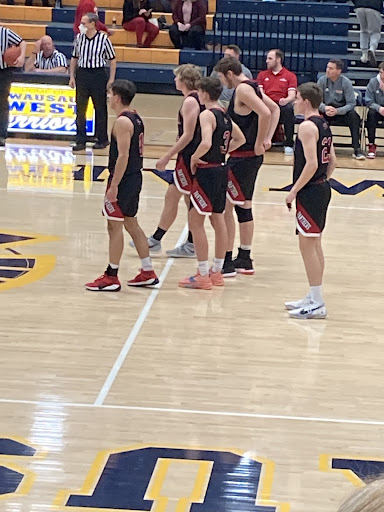 Three years in a row, 2015, 2016, and 2017, SPASH Boys Basketball ruled the state. Ever since the 2018 team graduated, the SPASH Boys Basketball program has been struggling a little bit with making a run into the state tournament. This year the SPASH Boys Basketball team looks to change that and bring the program back to where it once was. 
SPASH Boys Basketball heads into the new year with a current record of 5-4, along with a 4 game winning streak. The basketball team had a tough start to the year, losing 4 out of the first 5 games. All of the team's losses were within 6 points, and SPASH had the opportunity to win each game. It all came down to a matter of a couple of possessions that just did not go our way. The games SPASH lost came from some of the best teams in the state including Appleton East, Neenah, and Eau Claire Memorial. SPASH did make a quick turnaround and they have jumped to a 3-0 record to start off conference play. SPASH Boys Basketball looks to continue this run and finally reach the point where they can play basketball at their best level. 
Possible Playoff Run
After being an early first round exit last year to Hortonville, SPASH is hoping to make a change by making a deep run into March. Every year, during March, the high school state tournament is hosted in a bracket format where one team looks to take home the state championship title. SPASH put together a very tough schedule this season in order to better prepare for the tournament in March. Scott Anderson, current Head Assistant Coach and former Head Coach, believes that SPASH can be the most complete team this year. "Hopefully the competitive games we have been in early in the year helps us at the end of the year. It usually helps a team achieve its full potential when having been in those high level games throughout the season. If we use those experiences to our advantage it should help us when we are in them as the season progresses and when we get into tournament play." The boys basketball team will continue to take steps throughout the year in preparation for the tournament run. 
Nate Streveler, a current senior guard, and Jack Diekelman, a current junior guard, have very similar predictions for this year's season. Nate Streveler, a current captain who is currently averaging 18 PPG, 4.8 RPG, 3.0 APG, and 1.0 SPG, also believes that we can make a deep run into March. Despite the slow start SPASH had to the season, Nate Streveler is not worried. "We had very tough matchups and we had chances to win all of the games we played. Meaning we lost by possessions and our worst loss was by 6 points to Neenah." These teams will only help SPASH in the long run because they are some of the most competitive games that take place this season. 
Jack Diekelman also believes that the boys basketball team is determined to make another run, and he is not concerned with the rough start. Jack Diekelman believes the basketball team has amazing talent and he believes that James Jacobs has a chance of being an all state player. This would be the most recent one since Drew Blair, who was all state a few years ago. "We have a great core of talent and a lot of players that complement their style of play. If I had to say someone, I would say that James Jacobs has the best possibility of being an all state player."
Conference Predictions
SPASH Boys Basketball looks to win another Wisconsin Valley Conference Title, especially after sharing the Valley Title with D.C. Everest last season. SPASH and D.C. Everest finished last year's conference season, both with records of 11-1 and each loss came from playing each other. So far, this year, SPASH has started with a perfect 3-0 record against conference opponents. Scott Anderson believes that we have another great shot of winning the Valley Title again this year, however, the basketball team still has 9 more games to compete in. "We are in a good place right now to go after that goal. I think if we continue to improve and play to our capabilities that goal will be achievable. A lot of work left to do."
Nate Streveler was a second team all conference player last year averaging 13.7 PPG, 4.2 RPG, 1.5 APG, and 0.9 SPG. Nate Streveler also stated, "I see us competing for another conference title. I believe the toughest matchup we will have is Wausau West." Every team SPASH plays within their conference is tough. One off games can ruin the possibility of being conference champs. 
Jack Diekelman was a key player who came off the bench last year, which helped the boys basketball team to a Valley Title. He also hit a buzzer beater against D.C. Everest, which is what allowed the boys basketball team to split the Wisconsin Valley Title last year. This year, Jack Diekelman states, "I think that we should be at the top of our conference this year. We have a few tough matchups, which we will have to bring our A game in order to take the conference title again this year. Our toughest matchups are going to be D.C. Everest, Marshfield, and Wausau West." Jack Diekelman feels confident that the boys basketball team will pull off another title, however, anything can happen in conference play. 
Program's Future 
SPASH boys basketball has a very good freshmen class of upcoming talent. Now the sophomore and junior class is also very promising, however, the amount of talented freshmen the program has is absolutely outstanding. SPASH's Head Assistant, Scott Anderson, likes the future of this program and the potential possibilities that might be achieved in the future. "I believe we are in a good spot with the talent in our program.  We have good players at all levels of the program, which is what you want to help develop a consistency within the program. Obviously the kids will need to continue to work and develop, but we do have good talent throughout." The talented freshmen will be in the program for 4 years so they will develop and build overtime. 
Nate Streveler adds on to Scott Anderson's comment with, "I think our future within this program is very bright considering the amount of talented freshmen we have." The freshmen class is going to have a lot of pressure considering the amount of talent they have. They will be the leaders of this program soon to come. Now, Jack Diekelman has some concerns with the amount of numbers some grade levels are experiencing lately. "I think our younger talent is promising, but we have lower numbers than usual in previous years with certain grade levels." The freshmen class has great numbers, however, the sophomore and junior classes seem to be struggling as more guys are not pursuing basketball during their high school career. 
 The SPASH Boys Basketball team has a great opportunity this year to achieve something memorable. They will have tough challenges ahead of them, however, as they continue their journey throughout the season they will only grow stronger as a team. SPASH currently has 9 games left of conference play and they will be tested against a tough Wausau West team and a tough Marshfield team over these next upcoming weeks. Additionally, SPASH has some very big seeding games coming up against Kimberly and Deforest, which will play a role in where they will be placed in March for the state tournament. Kimberly and Deforest play some of the best basketball in the state so they will be very good tests for SPASH. Overall, the SPASH Boys Basketball team will be exciting to watch as they will look to finally be back on top, just like they were only a few years ago.