From Distinctive Scars To Digital Cards: The Past, Present, and Future Of Vaccine Credentials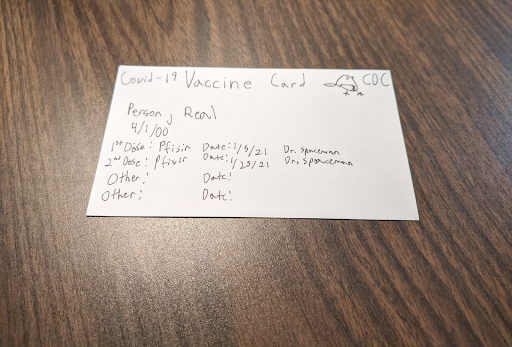 They're a bit too big to fit into a wallet yet small enough to be easily lost. They're treated as official documents and yet they're incredibly easy to fake. Vaccine cards are something of a battleground in world politics and have been for longer than many people may think. But when did all of this start? And why is mine so useless?
According to NPR and the BBC, the debate around requiring proof of vaccination began around the turn of the nineteenth century with the invention of the plague vaccine. As black death tore through densely populated areas of India, local governments of religiously significant sites and the colonial Indian government alike scrambled to enact some sort of requirement for proof of vaccination. Even then vaccine credentials were plenty controversial; an Indian public that was inherently distrustful of the British that had been oppressing them didn't love the idea of their movement being further restricted. All large-scale plans were quickly backtracked and thrown out after the mass riots and protests sparked by this legislation. 
On the other hand, to paraphrase a fantastic CBC article by Ainsley Hawthrone (which I suggest anyone give a read if they want more information), on the other side of the planet the American public had taken a strong liking to the smallpox vaccine, requiring it for everything from entering the country to going to work to eating at a restaurant. In fact, a contemporary physician from Chicago stated that "Vaccination should be the seal on the passport of entrance to the public schools, to the voters' booth, to the box of the juryman, and to every position of duty, privilege, profit or honor in the gift of either the State or the Nation." Proof of vaccination was a very different prospect at that time; the smallpox vaccine was administered by scratching the arm, leaving a distinctive scar which was used in the same way a card would be used today.
Ironically, the smallpox vaccination scar and the modern vaccine card share more than just a common purpose; they're both also easy to fake. Anti-vaccine advocates of the early 1900's would scratch their arms to get around the checks in the same way that a modern person might buy a fake vaccine card online. When Fakespot (an online resource that detects fake listings and reviews on online storefronts) adjusted their algorithms to detect listings for fake vaccine cards on websites like Ebay and Facebook Marketplace, hundreds of listings were found. A pharmacist in Illinois was even arrested for stealing more than 100 official vaccine cards to sell online. We can never know the full extent of the damage done by the fake vaccine credentials market, but to quote Pennsylvania attorney general Josh Shapiro, "This is a dangerous practice that undermines public health." So faking vaccine credentials is nothing new and it's worse than it's ever been, but will it always be this way? What does the future hold for vaccine credentials?
To answer that question you need to look east to New York City, a city in a bit of a transition period for vaccine credentials. NYC recently rolled out a citywide vaccine requirement for indoor leisure activities. Residents over the age of 12 are required to show proof of vaccination through their vaccination card or one of two officially approved apps. The first and significantly more popular of the two apps is the state run Excelsior Pass. Ranked at #15 in the health and fitness category of the iOS app store, the excelsior pass checks your state ID against a state health department database of vaccinated and covid-19 tested individuals to show your vaccine and test status portably and securely. 
The second app, a city run app called NYC Covid Safe, ranks #36 in health and fitness for pretty clear reasons. New Yorkers haven't been shy about expressing their distaste for NYC Covid Safe, with Albert Fox Kahn, a member of a privacy and digital security nonprofit advocacy group, uploading a picture of mickey mouse to the app that was verified as an authentic vaccine card. Khan pulled this widely reported stunt to demonstrate that, in his words, "The New York City app is a camera app dressed up like a health tracking tool. It is not fundamentally a meaningful safeguard."  Despite the problems with physical cards and the NYC covid safe app, New York City has seen its case numbers steadily decrease since the legislation according to official numbers.
Continuing even further east across the Atlantic Ocean and into the Mediterranean you can catch a glimpse of a potential future. In September after months of having the second highest official death toll in Europe, the Italian government approved a measure to require that all workers within the country have the EU's Green Pass. The Green Pass is a digital health pass similar to New York's Excelsior Pass originally intended for quick and easy movement between nations in the Schengen Area and beyond. This measure formally began on October 15th when all workers that failed to present a green pass were put on leave for 5 days, after which time their pay was indefinitely suspended until they got green pass certified. In an official statement made by the Italian government, they claimed that any business found to be violating the rules could be fined up to 1500 euros.
Ultimately, proof of vaccination, whether scar or document or app will remain both important and messy for a few years to come. And history shows that we may need it again in the future. But for now, don't run your vaccine card through the wash, you might need it.