Comfy Coffee Shops in Stevens Point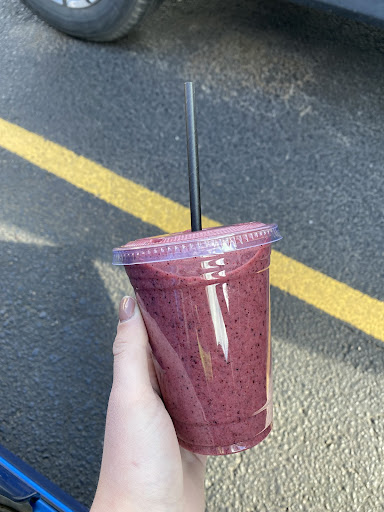 The thought of a good coffee shop should make you feel warm and welcome along with their wonderful options to choose from. There are four popular coffee shops in town to choose from: Zest, Starbucks, Emy J's, and Ruby Coffee Roasters. All coffee shops have their positives and negatives; it just depends on what you base them off. 
Half of the people interviewed said Starbucks is their favorite coffee shop in Point. Starbucks offers foods such as: breakfast sandwiches, cookies, cake pops, protein boxes, and yogurt. The drinks they offer are: hot coffees, hot teas, blended beverages, cold coffees, and iced teas. A few other things they offer is coffee to take home and merchandise. Gina Jordan, the career center advisor at SPASH said, " I like the taste of their coffee and I like the drive through". Hannah Purkapile, a senior at SPASH said, " Their chai lattes are the best I've had and there is fast service because there are more people". 
I went through the Starbucks drive through and liked that the line moved fast. The employees are very friendly and welcoming. They ask about your day and then get to your order. They are very accommodating, if you don't order something specifically on the menu they will still make it and that is one of my favorite things about Starbucks. It is a good place because they have tables where you can work on homework or sit with friends and this is important being a town known for its college. One of downsides to Starbucks is that it can get crowded really fast which means a longer waiting time and it might be hard to study if there is a lot of noise. Another downside is that the prices are pretty high. 
One of the four people said they liked Emy J's the best. Emy J's offers Cinnamon rolls, ice cream, cookies, and muffins. They have hot and iced coffee, espresso drinks, tea, chai, they have a lot of hot and cold specialty drinks, and different smoothie drinks. Nora Mcguire a junior at SPASH said, " They are really inclusive, all the staff members are very nice, and they have the best drinks in general". She also says, " I grew up with Emy J's so there are a bunch of good memories". According to Nora, " It is very local and has a homey feel to it". 
I went to Emy J's and got a Berry Happy smoothie.  The taste of their smoothies aren't like other coffee shops, because they are made out of real fruit and not artificial. The worker wasn't very talkative and there was only one employee working so when it is busy service is slow. 
One of the four people chose Ruby Coffee Roasters. Ruby Coffee Roasters offers foods such as burgers and breakfast sandwiches and bakery items and they even have vegan and gluten free options. They have many different coffee drinks, teas, chai, and they also include seasonal drinks.  Michelle Formella, the bookkeeper at SPASH said, " I like the atmosphere and the stuff they offer and I like to go with my daughter in law". According to Michelle, " It is convenient because they have a walk-up window so you don't have to go inside and all the employees are very nice".
Whatever coffee shop you choose, a good coffee shop should make you feel welcome. It may take a while to pick your favorite coffee shop or you might have a couple that you tend to gravitate towards.