Recent Covid Updates on Different Size High Schools in Wisconsin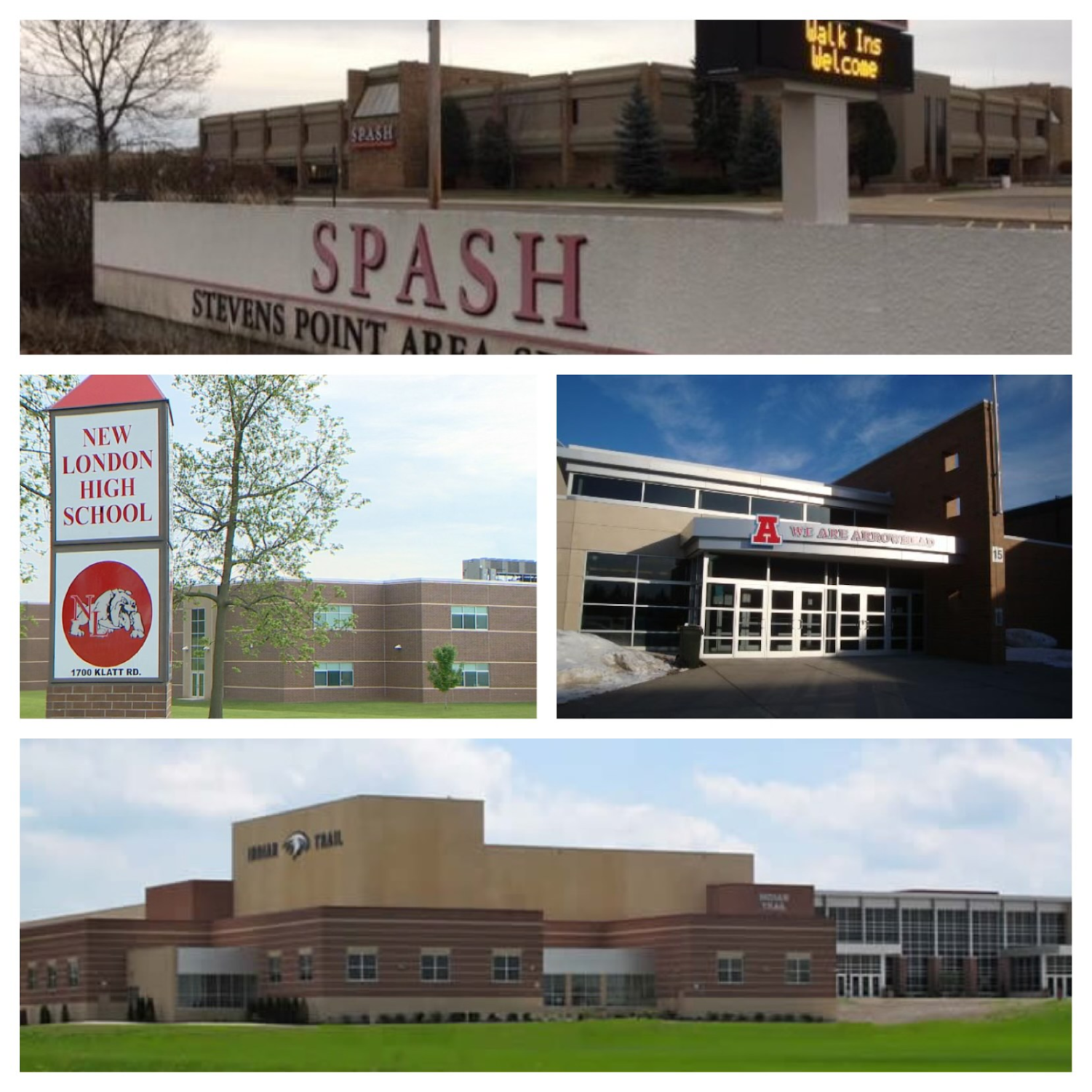 Covid has affected schools, staff, parents, and students since March 2019. Students were forced to do online school and stay home away from friends and public settings. Schools still haven't completely gone back to normal but they are taking steps to get there. We will be looking at covid cases throughout New London high school, SPASH, Arrowhead and Indian Trail high school. Along with the steps they are taking to stop the spread of covid.  
New London high school has more covid cases then SPASH. New London currently has 638 students enrolled at the highschool grades 9-12. Plus, 81 staff members working there. The New London District website shows there are 8 current covid cases and 10 on quarantine (10/20). This year so far they have had 55 positive cases and 48 quarantines. This shows how the number of quarantines were lower than the number of positive cases. New London also doesn't enforce wearing masks. This may explain why they have more cases than SPASH when they have half as many students.
Brent Gostomski stated in an interview that SPASH currently has 1,502 students enrolled at the high school grades 10-12. And that there are approximately 100 staff working in the building. This is pretty consistent with non-covid years. Unlike New London SPASH requires masks. Brent Gostomski also mentioned that towards the end of the quarter the superintendent will revisit the mask policy. They will then make a decision on where they want to go from there. According to the covid dashboard on the Stevens Point Districts website 7 students have positive covid cases and 0 staff. It also states that there's
been 34 cases since August 2021 (10/24). Brent Gostomski explained how last year there were 110 positive cases among SPASH students. This year they are seeing more cases compared to last. This may be the effect of the Delta variant being more contagious than previous variants. 
This is how SPASH is dealing with close contacts among students. Students are notified and sent to health isolation until picked up by an adult. They then need to be tested. If they come back positive with symptoms they must identify close contacts and stay home for 10 days from when their symptoms started. After not having a fever for 24 hours they then can return to school. If their test comes back positive without symptoms they must stay home for 10 days and stay away from people. If a student comes back negative with household contact they must quarantine for 10 days after household quarantine is complete. Or they have the option to take a test on day 6 or 7. If they come back negative they can return on day 8. If vaccinated, test on day 3-5 if negative, return to school but monitor for symptoms for 14 days. If a student comes back negative without household contact they must stay home for 10 days or test on day 6 or 7. If they come back negative, they may return to school. 
Arrowhead is located in Hartland Wisconsin. This school has 2,139 students grade 9-12 and 115 staff. Masks, close contacts,and vaccinations are all optional. If students are sick they stay home and quarantine when they think it's needed. Current positive covid cases amongst students are under 5 along with staff. Total student positive cases sense 9/1/21 are 96. Total staff positive cases are 9 sense 9/1/21. Indian Trail highschool is located in Kenosha Wisconsin. It has 2,280 students and 123 staff. They are required to wear masks and if they have positive covid cases or close contacts they must quarantine for 14 days.
Each school is dealing with covid a little differently but all have the goal of keeping students and staff safe. Out of all the schools SPASH has the most information on their websites regarding covid. 3 out of 4 schools had covid dashboards to show the amount of positive cases the school has and had since August. SPASH was the only school to have the quarantine and close contact procedures on their website. The schools that don't have masks required have more positive cases and quarantines than the school that have masks required. The best strategy for keeping positive cases, quarantines, and close contacts low would be SPASH's covid procedures. They have the lowest positive cases and quarantines out of the three schools. They are also taking the most steps to keep students and staff safe.