My Body, My Choice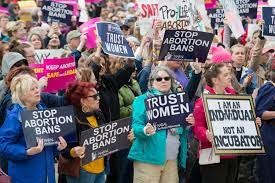 Abortion is a highly opinionated topic and can be hard for some to talk about. Abortion is a termination of a fetus or embryo before a fetus is able to live outside of the womb. If women are to lose there right to have an abortion many will find other ways to accomplish what they want even if its unsafe. According to Center of Reproductive Rights, other places such as Egypt, Dominican Republic and Jamaica it is very hard to receive a safe abortion due to prohibiting them altogether. 
Current State for Abortion Laws
According to the U.S Supreme Court case of  Planned Parenthood of Southeastern Pennsylvania v. Casey currently eight states including Alabama, Arizona, Arkansas, Michigan, Mississippi, Oklahoma, West Virginia, and Wisconsin still have unenforced pre-Roe abortion bans in their laws, which could be enforced if Roe were overturned. In the Texas legislature located online in September 2021, the Supreme Court allowed a Texas law, S.B. 8, to take effect. S.B. 8 effectively prohibits abortion after six weeks and creates a private right of action that allows any person to sue anyone who helps a person access abortion care. Both of these laws directly contradict Roe v. Wade and Planned Parenthood of Southeastern Pennsylvania v. Casey, which guarantee the right to abortion and prohibit states from barring it before the point of viability which means whether or not a fetus is able to live on its own outside of the womb.
Texan Suffer Against Abortion Ban 
As indicated by New York Times article "About the Texas Abortion Law". This is what it's like to attempt to get an early termination in Texas since SB 8, a law that boycotts virtually all fetus removals after six weeks. Before many individuals realize they are pregnant and do realize it in time, it's a race against the clock to schedule an appointment and get the money for the procedure which costs an average of about $500 and typically isn't covered by insurance. Most Texans will have to travel to a clinic in Oklahoma, Kansas, or even as far as Michigan or New Jersey. Such a trip is simply too far for many. But, for each Texan who can leave town, there are more who can't. "That's the people that have a working car, that can get time off, who have somebody who can take care of their kids," said Vicki Cowart, president and CEO of Planned Parenthood of the Rocky Mountains, which covers New Mexico, Colorado and Las Vegas, Nevada. "There are going to be thousands of individuals who don't have that wherewithal, and it's really particularly going to impact women of color, young women, rural women." We're only going back in time.
History Behind Roe v. Wade
January of 1973, Roe v Wade was the start of women's rights to abortion. The US Supreme Court ruled that the Constitution protects a woman's right to an abortion through the end of the first trimester or the twelfth week of pregnancy. After twelve weeks, a woman's access to abortion may be restricted based on the restrictions of the states, as well as the level of risk that the pregnancy poses to the woman's health. With the Court's decisions in Roe v. Wade, the barriers to safe legal abortion began to fall: states could no longer criminalize abortion; women could no longer be forced to choose between continuing an unwanted pregnancy or risking their health and lives by seeking an illegal abortion. 
In conclusion, women all around the world are suffering due to bans against abortion.  Approximately 13 percent of maternal deaths worldwide are due to unsafe abortions between 68,000 and 78,000 deaths annually according to the Human rights watch. Us women should have a choice on what we can and can't do to our bodies. Our generation can be the change that we need.