How Society Views Kyle Rittenhouse after the Verdict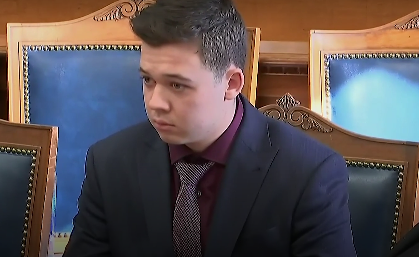 Kyle Rittenhouse was accused of shooting 3 men in the "Black Movement Protest" in 2020. At that time, Kyle Rittenhouse was only 17 years old and claimed he was protecting an automotive business from vandalism. Rittenhouse said he was offering first aid to anyone injured during the protests. Now Rittenhouse is 18, and he faces criticism after he was announced innocent. 
According to CNN, "The extreme politicization of the Rittenhouse case has only increased since he was found not guilty of first-degree intentional homicide and four other felony charges on Friday." President Joe Biden said, "If the jury system is to survive, verdicts must be respected by those who disagree with them." President Joe Biden affirmed on Friday, "I stand by what the jury has concluded… Rittenhouse walked free from court that looks certain to become even more controversial as he is made into a hero by conservative media." 
Some Americans in social media agree that Kyle Rittenhouse is innocent when the verdict was settled, but some disagree and were angry with the verdict that Kyle Rittenhouse was found not guilty. Ultimately the verdict for Rittenhouse has been found to be innocent for his self defense.
Rittenhouse carried a gun to a protest and said it was to keep himself safe. "When the defendant provokes this incident, he loses the right to self-defense. You cannot claim self-defense against a danger you create," stated an American lawyer and government official in the Kenosha County Assistant District Attorney, Thomas Binger. Whether it be a protest or a riot, if a person gets attacked first, that person has the right to fight back. If he doesn't fight back and taking a hit won't solve anything. Rittenhouse's prosecutor said, "Mr. Rittenhouse had feared for his life and acted in self-defense when he shot three people." Therefore, Kyle Rittenhouse had no choice but to act in a short time.
According to the New York Times, there were five felony charges Rittenhouse faced in trial. First charge of first-degree reckless homicide after Rittenhouse shot the first victim: Joseph Rosenbaum during the protest. The second charge was first-degree reckless endangering safety of Richard Mcginnis, a witness in the line of fire. The third charge was first-degree reckless endangering safety of an unknown man kicking at Rittenhouse before Anthony Huber was shot. Fourth charge: first-degree intentional homicide, killing Anthony Huber; the second victim. The fifth charge: Attempted first degree intentional homicide when Rittenhouse shot and wounded Gaige Grosskreutz who is the third victim.
The New York Times stated, "Rittenhouse says he carried a rifle in order to guarantee his safety during a violent protest,". Kyle Rittenhouse may not have expected the protest to be violent but there was a quote from the Milwaukee journal sentinel, after the protest. "The teen went to his hometown police station with his mother shortly before 1:30 a.m. Aug. 26 and turned himself in". This indicates that Rittenhouse felt guilty. 
It happened so quickly that Rittenhouse felt that he couldn't do anything and felt he had to end two men's lives. "He was a bad man. He was a rioter and my client had to deal with him that night alone." Rosenbaum's attacked Rittenhouse with a plastic bag that he got from the hospital. There is a video post by CNBC, that shows a piece of evidence that connects with Rittenhouse.
"He was shot because he was chasing my client, going to take his gun and kill him". After taking down Rosenbaum's, Rittenhouse was then chased by a person with a skateboard. Rittenhouse trips onto the ground and is directly attacked by the person with a skateboard on the head twice on the ground, before being shot. Then the third victim Grosskreutz came after Rittenhouse with a gun in his hand. According to the New York Times, "Wisconsin's rules for self-defense, If people reasonably believe they are at risk of death or great bodily harm, they can use deadly force. Most states say that someone who provokes violence or is acting illegally waives the right to self-defense, but Wisconsin allows it if the person has "exhausted every other reasonable means to escape from death or great bodily harm."
Yet many people disagree with the verdict. The people were angry that he killed two white men in a black lives movement protest. "The intense arguments the case sparked on gun rights, racial justice and other fraught issues, experts said the trial instead hung on the much more narrow topic of Rittenhouse's self-defense claims". Rittenhouse was given narrow questions, only yes or no answers by the judges. The judges must have taken pity to Rittenhouse, since he was a teen. Then the verdict comes in conclusion that Rittenhouse is not guilty, which becomes a controversial topic. 
According to CNN, "The extreme politicization of the Rittenhouse case has only increased since he was found not guilty of first-degree intentional homicide and four other felony charges on Friday". "I don't know how they came to the final conclusion that he's innocent, but this is why African Americans say the whole damn system is guilty," Blake said. "This must end." Jacob Blake, Anthony Huber's friend is emotionally angry toward the verdict that has been set in stone. Blake didn't want to forget that his brother Huber was killed by Rittenhouse that night. Blake is using the old court system phrase against the modern system.
"President Biden said in a statement that while the verdict will leave many Americans feeling angry and concerned, myself included, we must acknowledge that the jury has spoken." Even president Biden disagrees with the verdict but understands the situation that would leave people in disagreement with the verdict, but it can't be changed. 
Two sides have their own opinion and judgement, one side disagrees and sees Kyle Rittenhouse as a killer. The other side agrees with the verdict and sees Kyle Rittenhouse as a hero. A verdict cannot please everyone. Two sides will always debate to gain satisfaction and victory to make sure the other side is defeated which results in a loophole.