The Car Community is Back and is Here to Stay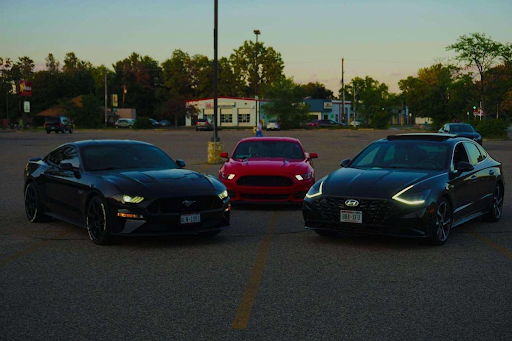 Car culture is an obsession for teens, or adults, with cars. Originated in the 50's, car culture is the religion all "car guys" pray too. It has been embedded into American roots for generations. Car culture isn't just in big parts of the United States like L.A, Miami or Atlanta. Car culture is embedded into almost every town or city in the U.S regardless of size. In every town there is always room for motorheads. 
In recent years several media outlets have been promoting cars and car culture which has brought many new people into the car scene. Shows like Top Gear which is a show where the cars are characters along with the three hosts, Jeremy, James, and Richard. Even though this show is based in the U.K. They have had a large influence on American car enthusiasts and enthusiasts around the world. As it says in Modern Car Culture, "All the media offerings are often the entry point of newcomers to car culture," such as the Fast and Furious franchise that has brought many people all over the world into the world of cars. 
The car scene in point is increasing
The car scene in point is steadily on the rise as more groups and people are getting into cars. This also means many events surrounding cars are starting to happen. According to Mason Erwin a local car enthusiast who put on many of the meets around point exclaimed that, "the car scene just got out of hibernation." With so many people coming into the car community events have begun to show up around point. Emmalee Jaskolski, another local car enthusiast said that, "the events in the Point-Plover area are usually in an empty parking lot." These events usually start in the spring and go till mid October. Most car meets are very chill with people talking about their cars and showing off what stuff they have done to it. On a larger scale every year in the Wisconsin Dells there is Automotion. Automotion is a weekend event surrounded by cars that attracts people from all over the midwest. 
Getting into the car scene is easier than ever
Many car manufacturers have begun making sport versions of their cars marketing towards car people or people who want sporty cars. Modifying cars has also become easier with "out of the box" tuners which can make your car faster with the click of a button. As Modern Car Culture explains, "All of this means more efficient fun out of the box, and a higher ceiling for those willing to make a few changes." This is changing the game for everyone in the car community being able to make their cars faster with a couple changes.
The car scene around the world is changing, including in Stevens Point. With many new people joining the car scene and so many advancements in technology the future is looking bright for motorheads around the world.