New Outdoorsmen Bring More Accidents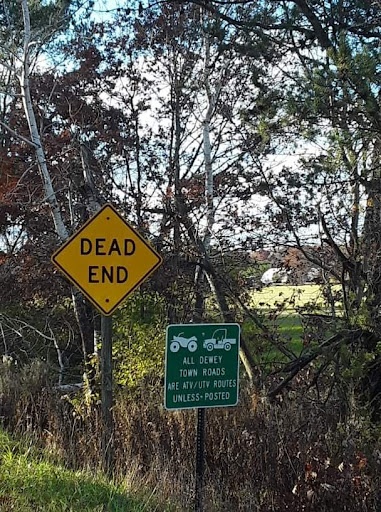 As a pandemic disturbs the United States in 2020, Wisconsinites participate in outdoor activities by the numbers. Instead of going to their usual vacationing spots or staying inside, residents hit the water and the trails. The amount of people hunting, fishing, and riding on ATV trails skyrocketed. The amount of new involvement can be great for future conservation projects or can even be more dangerous to experienced outdoorsmen. 
Over the past couple years, many municipalities have opened up their roads for ATV/UTV trails such as; the Town of Dewey and the Town of Hull. These new roadways being open to ATV riders created a boom in the amount of people buying ATV's and people riding. According to the "Wisconsin Policy Forum"'s article, Take it Outside, there has been a 32.7% increase in purchase of trail passes over the past year. Portage County Game Warden, Officer Bryan Lockman, adds ""There was definitely an increase in boating, fishing and ATV/UTV's in Portage County.  With Covid, many families canceled big vacations and opted to buy new toys and recreated locally."
Not just ATV's and trails but also fishing. Fishing licenses sold was probably one of the greatest jumps in involvement. The Wisconsin Policy Forum found that the amount of fishing licenses sold increased by 130,000, that is 130,000 new residents fishing. With more people fishing comes more visitors to Wisconsin's great state parks. There has been an increase of 42% more visitors to the local state parks over the year of 2019-2020. Wisconsin Policy Forum researcher, Jason Stein, believes that this huge jump is because of the pandemic pushing people to get outside more and enjoy their freetime. Mr. Jason Stein quotes, "It's like anything, you know — if you can get a bunch of people to try something new, birdwatching or cross-country skiing or whatever it is, for some of them, it's really going to click with them." 
There is no doubt that Wisconsinites are getting outside more and recreating but with all these new uninformed people, comes more accidents. The Wisconsin Department of Natural Resources data bases have reported a 15% increase in hunting accidents during the 2020 hunting season compared to 2019. That's not the only thing, Boating accidents have increased by 60% and ATV accidents by 43%. Game Warden Bryan Lockman informs that, "When we run into folks getting involved in new activities, we often see that's a time when most of the violations occur.  Violations occur mainly because they just don't know the laws." Officer Lockman also comments that with COVID-19, the DNR couldn't put on their educational events to help inform the public about common violations and outdoor etiquette. 
More people involved with the outdoors is great for the industry, economy, and the community. More people involved gets more revenue for the Department of Natural Resources which just goes right back to the people through wildlife management, conservation projects, and better recreation. With more new people in the woods, means more accidents due to people who never held a license before. Officer Bryan Lockman believes it'll get better as time goes on and the new hunters and boaters will be more experienced. Huge question though is on the brighter side of the topic; Are these outdoorsmen to stay? Game Warden Lockman elaborates, "My hope is they all stay active in the outdoors, but I think it's human nature that some of the folks will side back into their old habits/hobbies. Overall though I think we'll gain a good chunk of people that will continue to enjoy the outdoors in all the various ways."