Picking the Path
What did you want to be as a little kid? Did you want to be a Doctor? A lawyer? Plenty of kids have come up with a general idea of what they want to be when they grow up. Throughout the years, this changes and is molded by the influential people or ideas that kids meet throughout grade school and middle school. When thinking about after high school paths, knowing your options by discovering your choices, helps to lessen anxiety and provides a more certain future. 
In order to begin planning for college, you must learn the art of decision making. Learning how to make decisions is a vital part of growing up. When exploring options of your post-high school experience, you must have the maturi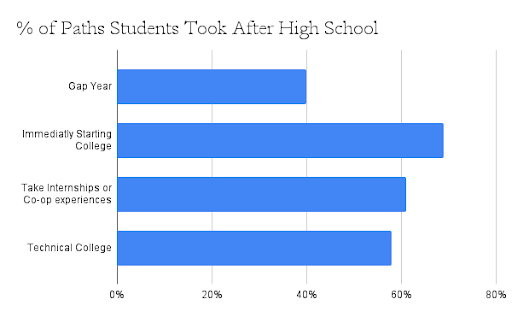 ty to make executive decisions considering that your future is now in YOUR hands. You have to explore and experience the options to assure what you want to do such as taking career quizzes, touring college campuses, and talking to your teachers or advisors about the options you have to pick from. 
Researching schools will also help students clear their vision about their options. When interviewing Hanna Daniels, 2019 SPASH graduate, she stated "When I was in high school, it was before the pandemic so I was able to tour the schools that I was really serious about.". She also commented on how she really enjoyed being able to explore the choices that she could make after school and that so many of the teachers and college representatives she talked to were so helpful, so that aided her to narrow down her decision. 
Something that's included in your after school options is a gap year. With this, there are pros and cons when having a gap year after high school. By the time you are done with high school, chances are you are going to be burnt out and tired from going to school for 13 years of your life so the thought of a gap year is quite enticing. According to Foundry10, 20% of students took a gap year in the 2020-2021 school year compared to 3% in the 2018 school year. A major benefit of a gap year is that you can take time off to reset and have "real life" experience before diving into college. However taking a gap year can cause loss of momentum from being the "school swing", which can cause a student to forget college altogether. According to the Education Seattle P.I., only 40% of students return to college after taking a gap year. In conclusion, taking a gap year can be beneficial and also non-beneficial, it's all what you make of it. 
When picking the path of a four year college people often limit themselves to learning only during their school years. However, attending a college or university opens up the window for opportunities that you may not be able to because you didn't go to college. According to North Eastern University, college graduates see 57% more job opportunities than those who didn't graduate from college. Not only that but it's estimated that by the end of 2020, almost two thirds of all jobs will require postsecondary education. Therefore, attending college would be in anyone's best interest for the future. There are many solutions for those who cannot afford college such as financial aid or applying for scholarships. A study from Bellarmine College shows that those who pursue at least a bachelor's degree will make significantly more money than those who only have a high school diploma. Thus, pursuing a college education will open new doors and opportunities for you to engage in. 
In conclusion, creating a post high school plan is beneficial to prevent you from losing money, wasting time, and getting you your dream job sooner. Knowing your future plans can be refreshing and rewarding and most importantly, you have the security of knowing  your plans, so you are left with the certainty and security of having a successful and planned out career and life after high school.