What Are SPASH Seniors Doing Next Fall?
The final year of school is something that children look forward to from the time they learn how to read, to the time that they start learning basic algebra. Although students can't wait for school to be over for most of their academic careers, SPASH seniors describe life after high school as intimidating and even scary to think about.
The future may be scary to think about for students, however, most SPASH seniors have already figured out what they will be doing or what school they will be attending come next fall. Josie Bowers, a senior at SPASH, will be attending St. Olaf University in Minnesota next fall, she describes her emotions about graduating by saying "It is super exciting, I have been looking forward to getting out of Stevens Point and living on my own for a long time and I will finally have the freedom to do so in just a couple of months." A similar opinion was shared by SPASH senior Jurnee Brandt, she says "Finally graduating is like a breath of fresh air. I cannot explain how excited I am to be moving on with my life past my home town." Graduation is only a few months away and the near future for these SPASH students looks to be full of excitement and new learning opportunities.
Although SPASH seniors are describing the near future as exciting, when asked about their long term futures there was a more cautious almost frightened answer given. Instead of expressing certainty and being excited, these seniors were very uncertain and indifferent when talking about where they would be in 10 years. In response to being asked where she sees herself in 10 years, Jurnee Brandt, who will be majoring in Nursing at UW Eau Claire, responded by saying, "I hope to be a nurse working in a clinic but who knows what will happen." Josie Bowers, in a similar tone, said "I hope to have a good job, and live somewhere far away for a while. Maybe I have a family, I don't really know it's scary to think about." Despite their earlier excited answers to how they felt about graduation, they both described their futures in an unsure and mostly scared tone.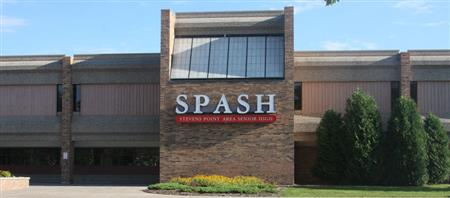 In addition to feeling excited to leave their hometown, despite the future being scary, SPASH seniors say they will miss their family and friends that they have made. Jurnee Brandt shared her experience at SPASH and described how, since SPASH is such a big school, it can be tough to find a friend group that you belong in, and how there can be a lot of drama included in everyday life. However, Jurnee still described her time at SPASH as "Full of great experiences" and said that she "learned a ton." She also added that it would be sad to see all her friends leave, but she was also very excited to stay in touch with them and make many more new friends at UW Eau Claire.
The final year of high school is something that children would describe as a year that they could not wait for, or the best year of their lives. Now that those children have grown up to be SPASH seniors, there is a very different attitude heading into that graduation date. Growing up can be intimidating and scary but it is also full of exciting and new experiences. Next fall, these seniors will be starting their new lives on their own. We all wish them luck and hopefully, after their years at college, the future won't be as daunting as it may seem for them just months away from high school graduation.