Biden's Covid Relief Plan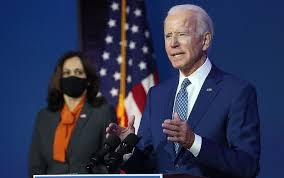 President elect Joe Biden proposed a $1.9 Trillion COVID relief package on Thursday January 14, 2021. Biden has come up with a plan to try and help Americans get out of financial hardship.
Biden has a plan on how to $1.9 trillion. It consists of $400 billion to fight the pandemic directly. Money would go to the vaccine and opening schools without risk within 100 days of his presidency. $300 billion would go to helping state and local governments. His plan also involves giving individuals stimulus checks of $1,400. 
It is likely that Biden´s COVID relief package will be passed in early 2021. Hunter Hammond, a senior analyst at Height Capital Markets tells CBS News that he predicts there is ¨an 85 percentage chance a scaled-down package will be passed in the first three months of 2021¨ . If that is true Americans are to expect their third stimulus check soon after it passes.
Stimulus checks have been used in the past. Stimulus checks are sometimes sent out during hardship to taxpayers to encourage them to spend money. They are nothing new, in 2008 and 2009 stimulus checks were sent out to stimulate auto and homes sales. In spring of 2020 the first round of stimulus checks were sent out to eligible Americans. December 27, 2020 President Trump signed the bill for a second round of stimulus checks. They are still in the process of being distributed.
The pandemic has left Americans in financial hardship. In November 2020, TransUnion, an American credit card reporting agency did a survey. Finding out that almost 6 in 10 households are facing financial hardship due to the pandemic. In addition, 1.15 million Americans filed for unemployment in the first week of the new year says the New York Times. So many Americans are benefiting from stimulus checks. I asked Julie Miller, a junior at SPASH her thoughts on stimulus checks. She said how helpful they have been for buying groceries and paying bills. She also said ¨[Biden's $1,400] is a good amount of money and it's definitely enough to pay for necessities but without a job $1,400 will go by fast¨. It is enough money to pay bills and buy groceries but not enough to live off of.
Congressional leaders plan to debate in the next couple weeks and if both houses of congress approve then the bill will go to the president's desk to be signed and then take effect. People could expect their money shortly after the president signs it. Which the incoming president is hoping people will spend to promote economic recovery.