The fitness life of a student
Brian Kraege
THE MIRROR
Many students at the Stevens Point Area School District play some form of sport be it football, volleyball or soccer but some students do more daring activities in their free time like snowboarding or diving. Hugh Gundersen is one such student who many are familiar with. In this article, Gundersen will describe his athletic adventures and his view on athletics in general.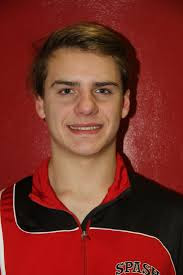 What kind of activities or sports do you play?
I bike a lot, I go rock climbing once and a while, I started getting into more extreme biking and I'm in the SPASH swim team.
What got you into each one?
A friend convinced me to join the swim team and I like it a lot now. I bike to school so biking was always a part of my daily routine and I just kept liking it more and more. Rock climbing was just an interest and I just kinda kept at it and now it's a thing I do when I have time.
Which one would you say has had the biggest impact on you?
Swim team for sure. I made a lot of friends and it really helped me get fit, it really just pushed me to try harder and made me like swimming more than I did. My friends on the swim team introduced me to new things and it's fun to hang out and work out with them.
Is there an activity you wouldn't do?
I wouldn't do diving, I'm terrified of being in open water and just not knowing what's around me.
 What activities do you want to get into?
There's really nothing I can think of that I want to get into right now but I would be willing to try some things once or twice like skydiving.
Which ones would you recommend for others to try out?
Definitely swimming, we need more members for the swim team and it's really fun when you get into it and it's really good for your body when you do it a lot.
 Did you struggle to get into any of them?
Rock climbing was a bit harder than I thought. I needed to work out a bit to be strong enough to do it for long periods of time but other than that it was all pretty easy to get into.