Your local 24-hour restaurant
NAOMI CLENDENNING
The Mirror
Have you ever tried to find a good place to eat at an odd hour of the night? Maybe you are with some friends and want a midnight meal. Look no further than South Point Restaurant.
Located in Stevens Point, the family-owned restaurant has been a town favorite for years. The small restaurant is always full of customers, some regulars and some who walked in the door for the first time that day.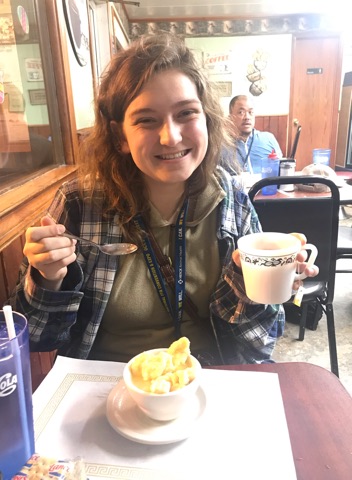 This American style diner has food for everyone from burgers, salads, soups and desserts. Some favorite foods include the chicken dumpling soup, Reuben sandwich, and the multiple types of pies that are available daily. Along with the large menu, South Point has daily specials and a kids' menu.
The affordability of South Point makes it a great place for a fun date or a place to grab something to eat. A full, home-cooked meal at the restaurant typically costs about $10. This is something that is uncommon in the fast-paced world that we live in.
A cozy, family-friendly environment exists at South Point that is impossible to find at any fast food restaurant. South Point employees are always there to greet you and make you aware of any specials for that day. Along the walls, there is a multitude of photos from throughout history in Stevens Point, as well as signs and plaques that show even more history.
South Point employees become aware of their regular customers and take time when they can to get to know the customers. My grandpa went to South Point every day for breakfast and he said he was always greeted with a smile, the waiters would stop by his seat and ask how his day was going, what he was up to that day, and made him feel like a person and not just a table number.
There is only one other restaurant in the Stevens Point area that is open 24 hours and that is Perkins. In comparison to Perkins, South Point restaurant has a wider variety of choices to eat, a lower cost, and an atmosphere of a local diner versus a chain restaurant. On the top of the menu, it says if an individual does not find something that they are looking for, that the kitchen can most likely make a plate of food for them.
Many drivers will pass South Point and not see the little restaurant, let alone want to stop and go in. This little gem of Stevens Point has been for sale for about a year, yet the owners have not sold it because they are waiting to find a buyer who will keep the name South Point and maintain the same inviting, "Greasy Spoon" environment that has existed for years.
This restaurant is not for the rich and famous, there is nothing extraordinarily fancy about South Point, but you can always find a warm cup of soup, a slice of pie, and a good atmosphere there. Next time you are in the area, I highly recommend that you check it out.
South Point is located at 3057 Church St, Stevens Point, WI 54481, about half a mile south of Little Caesar's.