SPASH Snowboarder competes at state
NICK PEOTTER
The Mirror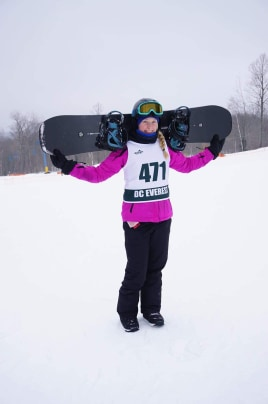 A single representative from Stevens Point Area Senior High (SPASH) was part of the state ski/snowboarding competition on February 16.
Natalie Emerson received seventh in boardercross, seventh in giant slalom and fifth in slalom out of 36 competitors.
This is Emerson's second year competing and she plans to continue in the future. In an ideal world, the end game is the Olympics, but she's having fun competing on a state level.
Emerson has been snowboarding for five years. No one told her to start snowboarding, she was watching the Olympics one night and asked her dad to buy a snowboard.
"He bought me a weird piece of plastic that was barely a snowboard." After a little research and trying things out, they found a proper snowboard so she could start practicing. Ever since then all of her practice has been paying off.
She has never gotten hurt snowboarding despite it being a fairly dangerous sport, although she happens to be quite accident prone in the off-season while she mountain bikes for the SPASH team, and spends a lot of time outdoors.
SPASH Snow Club members can thank Emerson because she was the one who got it up and going at SPASH. As soon as she became a sophomore she started telling people to join. Her goal was to start a competition team but most people just wanted to have fun carving the slopes.
DC Everest just so happened to have a snow sports team that practices at Granite Peak, so Emerson did find a way to compete through them.
Snowboarding has been quite costly for her as the price of the sport keeps going up and sponsorships are few and far between. By starting Snow Club she got the practice time she wanted for a discount with the help of math teachers and club advisers Paula Perron and Max Rady.