Ramos enthused about being at SPASH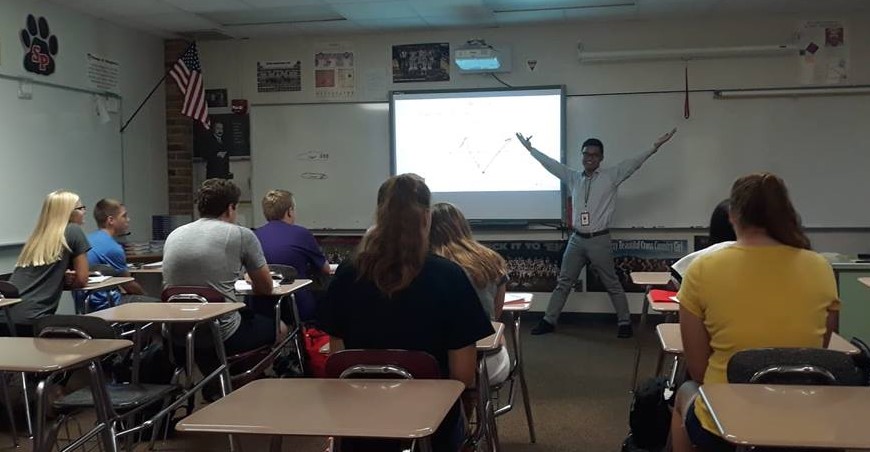 By HLEE YANG
The Mirror reporter
"Traditionally in the Philippines and in many Spanish speaking countries, you'll get four different names for your name," said Ralph Joseph Roxas Ramos, adding that people get their mother's maiden name as their middle name.
Ramos is a new math teacher at Stevens Point Area Senior High (SPASH). His students would describe him as someone who smiles and laughs a lot and the kind of teacher who makes them want to participate in class.
Ramos was born in a village in the Philippines called Bocaue on May 9, 1991. He lived there until he was nine years old then moved to Illinois.
Like most children, Ramos grew up playing video games, but unlike many of us, he earned money for it. Ramos played a lot of PVP type of video games and entered a lot of tournaments, from which he earned a money and often used it to pay his college textbooks.
Ramos studied at the University of Wisconsin-Stevens Point. He really loved his experiences there and felt like all his teachers really wanted him to do well.
Ramos majored in mathematics for secondary education and graduated in May 2018. He did a lot of observation with Paula Perron as a student teacher.
So far, Ramos said it's been great teaching at SPASH and he feels that the administration has been really supportive. Ramos also really like the community at SPASH and feels strongly that SPASH really pushes and helps their students work harder and be better.