Jurgella has made an impact
By DYLAN KONICEK
The Mirror reporter
Janet Jurgella, one of most beloved teachers at SPASH, will be retiring once the school year ends.  She is loved by many students and faculty members but is ending her fulfilling career after a total of 23 years of teaching.
"I have taught at SPASH for 15 years, I have taught eight of the 18 courses in the English department, prior to that I taught at to Pacelli and the university both for four years. Primary courses are American Literature, Lit and Film, and Advanced Composition."
Although she is retiring she is not completely ready to hang up the gloves quite yet.
"I will be subbing at SPASH as much as I can, and volunteering in the community along with spending more time with my four kids and four grandkids," Jurgella said.
Out of all of the careers in the world, she chose to be a teacher and what a wonderful one she turned out to be.
"My love of reading and writing, and my love of young people really inspired me to become a teacher. But at the end of the day, the most rewarding thing to me is to know that I am helping students progress towards their futures."
Jurgella will be missed by many people. One person is Kari Witt, another English teacher at SPASH.
"We've been really good friends for four years now. It's hard to not think about her leaving without being emotional about it personally because we're such good friends.
The amount of knowledge Jurgella has in the subject she teaches is amazing, and the love she has for the school and community is not something you see every day," Witt said.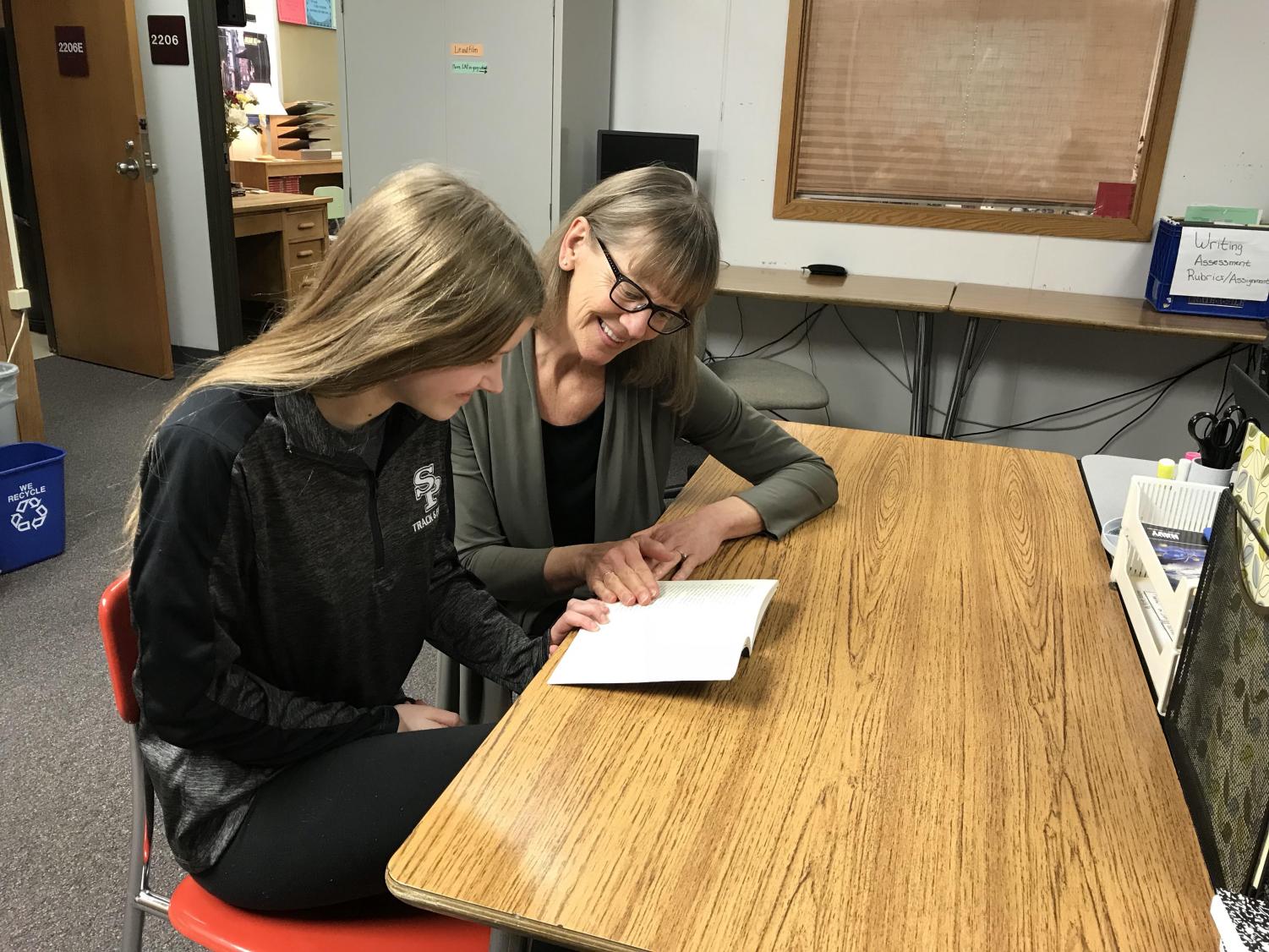 Although she will be missed she took nothing for granted and she wouldn't want to trade it for the world.  She had many highlights of her career.
"I had way too many in my mind so I just narrowed it down to four to keep it kind of short.  Those memories are teaching my son Neil at Pacelli and my daughter Mary Sue here at SPASH, being asked to give the Pacelli commencement address twice by the graduating class, hearing Lit and Film students tell me that they point out cool technical things to their parents and friends when watching movies and every time a student says or writes something deeply interpretive or analytical that I would never have thought of myself," Jurgella said.
She has had some obstacles to overcome in her career as well such as, "Trying to motivate smart students that have potential and that seem not to care, trying to motivate students who don't think that they are smart, and trying to help students to realize that the details are important. And finally bringing students to the here and now of the classroom."
Jurgella's departure means another teacher is coming and she has advice for any upcoming teachers. "Don't be afraid to come across as a little bit crazy in love with what you read and what you can write about."
Jurgella has made such an impact at SPASH that it will be an eventful day when she leaves.