Let's talk about the news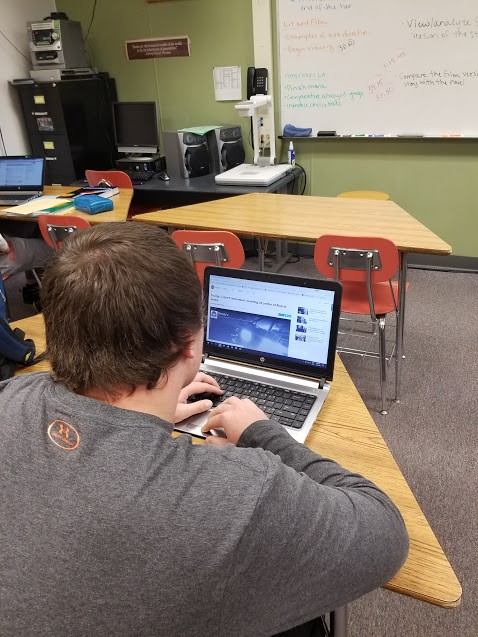 The Mirror reporter
Media consumption is continually changing with new technology and wavering public trust. However, despite common beliefs, newspapers are not dead, not all cable news channels are extremely biased and millennials are not the only ones getting their news from social media.
News is a thriving industry exemplified by many Stevens Point Area Senior High classes and resources.
The traditional image of news is the newspaper. That picture is slowly going extinct due to print circulation declining by 10 percent this past year. However, as print circulation has been decreasing, many newspaper have moved online and are actually seeing an upward shift in sales. Since the end of 2016, The New York Times gained 500,000 online and print subscriptions, The Wall Street Journal added 150,000 subscriptions and The Washington Post grew their readership by 75 percent.
Sophomore Gabi Held said, "Newspapers moving online helps me stay informed. I can get notifications on my phone."
The Writing for Publication class focuses on journalism and runs the student newspaper, The Mirror. Writing for Publication teacher Carol Colby said, "News is an incredible safeguard in free democracy. The last election was an eye opener for accurate information and watchdog news."
The Mirror used to circulate print copies around the school but in 2012 switched to an online medium. "We moved online to eliminate printing costs and the shorter turn around. We can write a story and have it on the website quickly. It's more contemporary," Colby said.
Cable or television news is currently the most popular form of news consumption with over 50 percent of adults receiving news from TV according to the Pew Research Center. Viewership of major nightly news shows like Cable News Network (CNN), Fox News and the American Broadcasting Company (ABC) News continue to grow.
Recently, television news has been under fire for biased reporting and many legitimate stations have been labeled as "fake news." According to Business Insider, the British Broadcasting Corporation (BBC), ABC, Columbia Broadcasting System (CBS) and the Public Broadcasting Services were ranked the most trusted news sources by all ideological groups. CNN and MSNBC were trusted by liberals and moderates but less by conservatives. Moderates and conservatives trusted Fox News more than liberals. These are all considered reliable news outlets by Politfact.
Video Productions' teacher Todd Vanderloop said, "There's a lot of fake news out there. You want to find reputable sources. I tell my students you can cheer for your team but you should stay unbiased and tell the truth."
The video production class at SPASH focuses on video with a television and broadcasting emphasis. This class runs SPASH Sports Nation and is responsible for channel 982 and contributes to the Central Wisconsin Sports' website. SPASH Sports Nation is a television/podcast-like website featuring content like homecoming highlights, live streams and video announcements. Vanderloop said, "[About multimedia news] it's everywhere. Knowing how to edit, report and get it out there will make you valuable in the work force."