Six semi-finalists named by National Merit program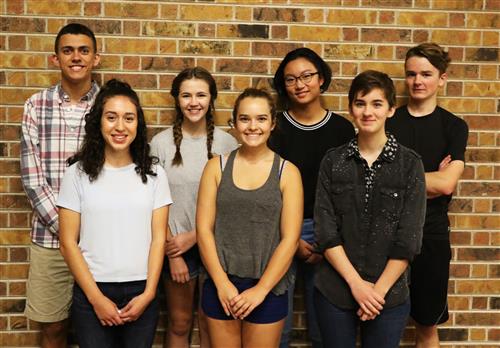 By SYDNEY CLARK
The Mirror reporter
The National Merit Scholarship Program is a nationwide academic competition for scholarships. Nearly 1.6 million juniors entered the competition by taking the Preliminary SAT (PSAT) last fall, and of those 1.6 million students about 16,000 student qualify as semifinalists. Alex Anderson, Tom Felt, Jocelyn He, Max Hofmeister, Gabby Larson, and Hope Mahon from Stevens Point Area Senior High all qualified as semifinalists.
Anderson found out she qualified when SPASH principal Jon Vollendorf walked into her Student Senate meeting to tell her the news.  She was originally shocked but it soon wore off and was replaced with pride for her achievement.  Looking towards the future, Anderson is hoping to go either to the University of Wisconsin-Madison, Northwestern, the University California-Berkeley, or Georgetown to study environmental engineering.
Qualifying is a tradition in the Felt household. Felt's older brother received the same recognition and he said "… there was a lot of pressure for me to get it as well," so he was happy and slightly relieved when he found out he did. Deciding to take the PSAT was an easy decision for Felt in that regard, but he also wanted to take it to prepare for the ACT and SAT. He is hoping this credential will help him save money and get into his top school choice:  Yale. Yale appeals to Felt due to its computer science program and a cappella groups.
He spent hours preparing for the PSAT using practice tests and prep book. When she checked her scores and compared them to past Wisconsin averages and score indexes He knew she had a good shot at making it as a semifinalist. When her counselor called her down to tell her, she was happy with the news. She plans to study economics, hopefully at her top school, the University of Chicago. Her advice for people taking the test "… start preparing early. You don't necessarily have to put in a lot of hours of practice, but get really familiar with the format and questions over a long period of time."
Hofmeister's initial reaction to learning he qualified as a National Merit semifinalist was a little bit of surprise mixed with pride. He said, "I felt pride for myself, but also for SPASH because we had so many people qualify." SPASH had an astounding number of seniors qualify. To put it in perspective, having six semifinalists doubled the number from last year and quintupled from two years ago. Hofmeister loves math and hopes to continue his study of it in college at UW-Madison with either a math-related major or economics.
Similar to many students Larson said, "I didn't prepare as well as I should have."  However, her natural intellect and the three practice tests she completed allowed her to achieve this award. When she found out she originally thought the office made a mistake but when it was confirmed with her counselor, she was overjoyed. Larson's tip to upcoming juniors taking any test is to "… stay calm. Being calm will help you more than being anxious especially when it comes to the math section." Larson's plan for the future is to study chemistry at a four-year university then go to law school to become a patent attorney.
When Mahon found out she qualified as a semifinalist she was thrilled about the opportunities that could be available. Moving on in the competition opens up the opportunity to compete for nearly 7,500 National Merit Scholarships worth over $32 million. Mahon credits her success on the test to Khan Academy, a healthy breakfast, and a good night's sleep and recommends all three to anyone taking the test. Mahon is hoping to go to a four-year university to major in physics and minor in philosophy, then move onto graduate school for physics.
Rania Nasif, although not a semifinalist, was recognized as a National Merit Commended Student. This honor is given to the top 50,000 scorers.
Now all semifinalists need to take the SAT, submit a teacher recommendation letter and a letter of recommendation from school counselor Jenessa Reid. If they complete all steps and score high enough on the SAT, they will qualify as finalists and possibly win scholarships of varying amounts. The National Merit Scholarship Corporations will announce the finalists of the competition in February 2018 and winners will be announced between April and July, 2018.