Daily Dose, Nov. 21, 2016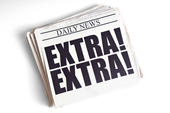 National News: On Saturday, Joe Thomas, Sr., took Senior Day to a whole new level. The 55-year old halfback became the oldest walk-on in NCAA history. The father of the Green Bay Packers linebacker, Joe Thomas, Jr., first touched the ball with 4:34 left in the first quarter and ran for three yards. He ended up touching the ball four times and rushing backwards for one yard in total. Thomas, Sr., was happy to play in a college football game and live in a dream that he has had for the last 36 years.
State News: Wisconsin cheesemakers, the Roelli Cheese Company, won the best of show award in the annual American Cheese Society competition. Receiving an award is similar to getting an Oscar. The 33rd annual competition was held in Des Moines, Iowa. Roelli's Little Mountain cheese beat out 1,840 other cheeses entered to win the award. Roelli's Cheese Haus was open throughout the 80's and early 90's then closed. It was reopened in 2006 and is currently located at the intersection of Highway 11 and 23, just east of Shullsburg.
Local News: Schmeeckle Reserve is hosting Happy Harvest today from 6-7 pm for free. It is a family friendly event, presented by Bianca Settimi and Megan Malinowski. The event will explore harvest traditions and make crafts.
Other Local News: Evergreen Community Initiatives (ECI) are seeking donations and volunteers as they announced the opening of a warming shelter later this year. Evergreen Community Initiatives will open the shelter at the Church of the Intercession downtown. ECI plans to raise at least $10,000 for the shelter. This shelter offers the homeless a place to sleep during the winter.
SPASH News: The SPASH boys basketball team started their season last week with the quest to win their third state championship in a row. SPASH has lost only once in the last two years and six times the last four years. Tonight is their first scrimmage in Sun Prairie and their first game is Friday in Rhinelander.