Daily Dose, Nov. 15, 2016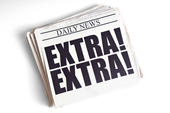 SPASH: The Stevens Point Area Senior High's (SPASH) jazz band is holding a concert in the SPASH auditorium at 7:30 p.m. tonight. The jazz band will be performing ten songs including Done Deal, Fish n' Grits, and Mamma Mia.
National: According to Fox News, Justin Ross Harris a 35-year-old, was found guilty of murdering his 22-month old son on Monday. He had left his son in a hot car for hours in the Georgia heat. Harris could be sentenced to spend the rest of his life in prison.
State: Police have been targeting two women who may have critical information regarding the death of 24-year-old Hussain Alnahdi in downtown Menomonie on Halloween. Alnahdi was a student from Saudi Arabia, which may be the reason for the assault.
Local: This season, Stevens Point is offering a variety of events in regards to art. On November 17 Judah Studios is offering a Do It Yourself (DIY) Wood Sign Making Class. If live music is more up your alley, check out the event Live Music with First Avenue at Sunset Point Winery.