Daily Dose, Nov. 8, 2016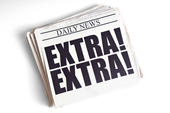 National: The 2016 Presidential Election is currently happening today. The top two candidates, Donald Trump and Hillary Clinton are battling it out for the presidency. Project fivethirtyeight updates their information very frequently, especially on election day, and is predicting that Clinton has a 71.4% chance of winning compared to Trump at 28.6%. The Electoral College vote predictions for Clinton are 302.2 and 235.0 for Trump.
State: As of this morning, roughly 84% of the Wisconsin votes were for Hilary Clinton and 16% of votes were for Donald Trump.
Local: Quirt Family Dental will be offering free dental services to all veterans who live in Plover and other local areas. The Stevens Point City Times reported that the event will happen on Friday, Nov. 11. One free extraction, filling or cleaning will be provided for each veteran.
SPASH: Chess Club meets today after school in room 2340.  French Club will meet today after school in room 2308. If you are interested in playing lacrosse this spring, please come meet other players and the coach today in Room 1310 at 3:15.