Daily Dose Nov. 7, 2016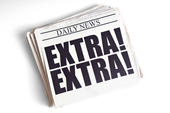 National– The latest presidential poll conducted by Monmouth University shows Hillary Clinton with a 6-point national lead over Donald Trump. Clinton received 50 percent support among likely voters, followed by Trump at 44 percent. The Monmouth University survey of 748 likely voters as conducted via landlines and cellphones.
State– A squirrel raided Lambeau Field mid-game Sunday night. The Packers were about to start a play in the red zone when play was stopped on sight of the squirrel running through the visitor's end zone. Seemingly running for his life, the squirrel escaped the animal security personnel and wasn't found.
State– The Panthers football team advanced to final round of playoffs. Joey Dorgan kicked a game winning 37 yard field goal to give SPASH the 37-34 win over the No. 1 seed Bay Port Pirates. The Panthers are currently are a No. 2 seed and will face the No. 1 seed Kimberly Papermakers in the semifinal game of the playoffs.
Local– Stevens Point officials held a public information meeting Wednesday, Oct. 26, to discuss changing lane stripping on Stanley Street from four lanes to two lanes. The middle lane would be for turning. The proposed project would be somewhere around $50,000. Nothing is finalized, it is only being discussed.
This Day in History– On Nov. 7, 1991, L.A. Lakers star guard and three time MVP, Magic Johnson announced his retirement after discovering he was HIV positive. This is important because at this time HIV and AIDS were seemed to only be found in gay white men, making it a tougher announcement for Magic Johnson to make. Magic was convinced to announce his diagnosis by Elizabeth Glaser, an AIDS activist. He went public with it to help educate people to be careful because anyone can get this fatal illness.