School security team roles explained
By ZACH WOYAK
The Mirror reporter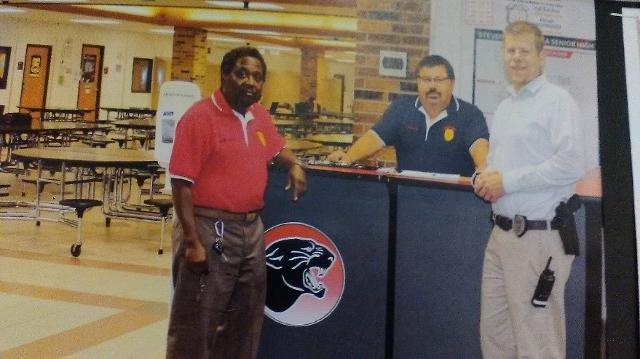 "The purpose of school security is to create a safe, free, and happy learning environment," said Louis Mbughuni, one of the three security staff who work at SPASH. Mbughuni has been working security here at SPASH since 1997, when the security department was first created.
Mbughuni told of the many jobs that Jim Mansavage, Officer Joe Kramer, and Mbughuni himself have here as members of the security crew. Their main role is, obviously, to create a safe learning environment but they have many other responsibilities that help contribute to keeping the environment safe.
One of their many jobs is to enforce school policy. Much like the executive branch of government, they enforce the rules of the school. They make sure students don't bully or harass one another and that they aren't possessing anything illegal or that represents a threat to the safety of the school.
Another job they focus on is supervising the parking lot before and after school. They make sure no students are driving recklessly in the parking lot. They also make sure that everyone parked in the lot possesses a parking sticker for this school year for their respective lot.
Senior Jesse Staniewski said, "Though while I can say I don't necessarily agree with this sticker policy, I humbly admit that an acquiescence of etiquette is provided through our students and the security staff's consistent patrols."
A third major job they have is controlling who is allowed into the school. They have to have every guest sign in at the front desk and make sure t they aren't a threat to the environment.
Junior Hannah Kolarik said, "I think that the security at the front desk gives me peace of mind knowing that I am safe during the school day."
The security staff couldn't do some of these jobs without their main source of technology: the cameras. The cameras are key to watching what goes on in the school. They show who enters and leaves the building, and they provide key evidence if someone has something stolen or if a fight occurred. Without the cameras, the school would not be as safe as it is.
"If they (the students) can provide a time (at which the event occurred), then we can use the security cameras to provide evidence to retrieve property stolen in the halls," Mbughuni said.
Elizabeth Potter-Nelson, a teacher from the Science Department, gave some high praise to the security crew. "The security staff does a great job providing safety away from home. I feel safe and have no worries that anything will ever happen every day that I arrive to school."