Daily Dose Oct. 21, 2016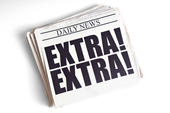 NATIONAL:  For over two hours yesterday Spotify, Reddit, Twitter, Amazon and Netflix weren't working on the East Coast. A large-scale distributed denial of service attack (DDoS) on Internet performance company Dyn brought multiple sites to a standstill. Service attacks occur when a large number of people flood a particular site with a large amount of fake traffic.  
STATE:  Wisconsin Public Radio reports that statistics from the U.S. Department of Agriculture shows that Wisconsin dairy farm numbers are on the decline, 400 less than last year to be exact. Agriculture is a major part of the Wisconsin state economy and the continuous decline could lead to a similar decline in the state economy.
SPASH:  The SPASH Panthers (8-1) will host the Green Bay Preble Hornets (5-4) in the first round of the Division One WIAA football playoffs. Both teams are looking to advance into the second round to play either Hudson (7-2) or Chippewa Falls (5-4).
TRIVIA:  On this day in 1833, Alfred Nobel, inventor of dynamite and founder of the Nobel Prizes, was born.