Iran Morality Police Under Fire for the Alleged Death of Mahsa Amini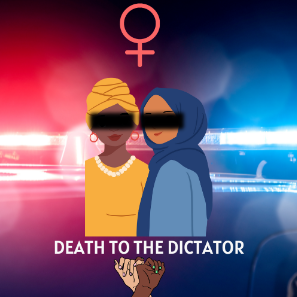 Outrage sparked after a video of a young Iranian woman collapsed in police custody. Hours later, a photo of Mahsa Amini lying unconscious in a hospital bed started to circulate on social media causing massive outrage among Iranian citizens as well as strong international reactions. The 22-year-old Mahsa Amini was pronounced dead on September 16th, three days after being detained by the "morality police" for breaking the country's hijab rules. 
The Morality Police
The Morality Police is a unit in Iran's police force whose job is to enforce laws on the Islamic dress code. The dress code is based on the state's interpretation of the Islamic Sharia law, which requires both men and women to dress modestly. In this event, Mahsa Amini collapsed in the hands of the morality police. However, they are claiming she had collapsed and died because of a heart attack; while Amini's family says she was beaten by the morality police. New reports are coming out with Iran's Forensic Organization, stating Mahsa Amini's death was from a chronological disease. Which resulted in severe hypoxia of the brain, (decrease of oxygen supply to the brain) because she couldn't access her medication.
According to The New York Times, the arrest took place in Tehran, Iran's capital where many eyewitnesses there told journalists that they'd seen Mahsa being beaten in the police van going to the detention center. Her 16-year-old brother, Kiarash Amini was with her at the time of the arrest, he had witnessed her being taken away as well as the moments after the collapse while waiting outside for her. He was told by eyewitnesses who were inside the center that the "police had killed someone," according to local news.
Family Response
 Event24, a semi-independent news site, did an interview with Mahsa Amini's father Amjad Amini where he states, "What makes me sad is that the authorities are spreading lies about my daughter every day," denying all statements made by the police. He then comments on the official statement the police made about the cause of death saying "… as the father who raised her for 22 years, I say loudly that Mahsa did not have any illness. She was in perfect health." In a different interview with her mother conducted by the Iranian news media, she stated her daughter was following the hijab rules. "They have to explain for what crime, for what reason did they do this?" Swarmed by security in the hospital and told not to speak out, she says, "…I am dying from grief." 
National Outrage Continues as Protests Get More and More Deadly 
The death of Mahsa Amini created widespread anger among Iranian citizens, many neighborhoods in Tehran broke out in rallies and protests with crowds chanting "death to the dictator" captured on video and posted on BBC Persian and social media. Mr. Riendl, a social studies teacher at SPASH, says the anger coming from people is "The idea a dress code can get someone killed." Especially when you think of the police and their role in society. These protests have been ongoing with many Iranian women demonstrating their support by burning their headscarves, cutting their hair, and not following Iran's dress code. Many of these demonstrations can be found on social media through Tik Tok and Instagram. As people break onto the streets, security forces are being sent to cities like Tehran to disperse crowds of protesters; many were captured on video beating unarmed protestors with batons. Since Sept. 30th a reported 66 people have died according to Amnesty International. However, new numbers are coming out with 154 deaths since Oct. 4th stated by Iran Human Rights (IHR) a Norway-based Nonprofit.  
Amini the Latest Symbol for Change 
A quote from Hadi Ghaemi, the director of the Center for Human Rights in Iran said, "The repression today, especially against women, is at an all-time high because the state is terrified of young women and their demands for change." Gender-based violence continues against women in Iran and as the younger generation keeps witnessing events like Mahsa Amini's their voice and fight for change grows even more.