Pfaff Family Hunting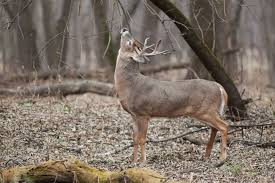 Hunting is something that has been in my family for generations, and many other families as well. I recently just shot my first deer which is also my first buck. Everyone has their different ways of hunting but here are some tips from the Pfaff family, a family which has found hunting success for years.
When it comes to deer any deer is shootable. If the deer has spots or a baby with spots it's probably best not to shoot, but by hunting season all the spots are gone. "Any deer you shoot is your trophy", says Bruce Pfaff, my dad. My dad has been hunting for years. Since he was little he would go out with his uncles. By the time hunting season rolls around all the new babies have pretty much lost their spots, they will stick around by their mothers for the beginning of the season but by mid bow season most moms kick away their young deer.  
Location is a pretty big factor in hunting success. Deer are everywhere and always moving but there are spots where they always hang around or go back to. "The tam racks in between swaps and inland areas. The thick stuff," says Pfaff.
On the other hand my mom, who has been hunting since she met my dad 17 years ago, says, "I'm gonna say [the best place to hunt is] in the hardwoods along the swamp. Because big bucks like to hide in the swamps and they like to come out and eat the acorns." In these two places is where we see a majority of the deer ago where we hunt. 
When a deer comes into range after waiting and the adrenaline starts to flow, taking the right shot is now really difficult. No matter how much you practice and hit the target that all changes when a deer walks right in front of you. It is hard to stay calm but it is important, make sure you can get an easy clean shot, deep breaths and follow through with your shot. Jerking or not following through can mess up what could have been a perfect shot. Watching the arrow hit the deer  is one of the best things to watch.
After getting down from the tree stand and looking for the arrow and any sight of blood we usually wait for a couple hours so it can die. Before we leave we look for at least one spot of blood, in case we need to contact a family friend's tracking dog. Tracking deer is personally my favorite thing to do.