Behind the Scenes at Taco Bell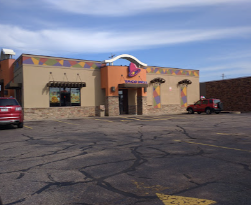 Have you ever wanted to know more about what happens behind the scenes at fast food restaurants? I was given the opportunity to interview three of the higher ups at Taco Bell on division street about their job and their experiences at Taco Bell. The three I decided to interview are Jake L, the General Manager (GM), who had worked there for 5 years; Logan W, the Assistant General Manager (AGM), who has worked there for a year and 2 months; and Chris C, a shift lead who has worked there for 5 years. I decided to interview them on what they look for when hiring someone, possible red flags when hiring someone, and some bad experiences with customers and employees. 
I first asked each of my interviewees what they look for when hiring employees and what made them decide to work at taco bell in the first place. Jake, the GM, said, "One of the main things is why they're interested in the job and trying to find the difference between those who want a job and those who want this job, and I saw a chance to do more to mentor others and help them find their way in life watching employees grow as people is the most rewarding part of the job." As a high school student, Taco Bell could be a good job to pursue if you're interested in food service.
 When asked about why they chose to work at Taco Bell themselves, both Logan and Chris said, "it looked like a good career option at the time and still proves to be one to this day." I can agree with this because I have been thoroughly enjoying my time at Taco Bell.
When asked about things that haven't gone well at taco bell Jake said, "trying to keep employees during Covid, staffing issues, many employees getting Covid and not being able to work due to being sick." Logan continued, "we have had a few employees that have not been so good for the company and we've had to terminate them." which I can agree with because I've witnessed this happen to others first hand.
When asked about moments when they had to get outside help, Jake and Logan responded with, "we once had a customer sexully harass an employee, and this issue had to be taken to court and that customer is now banned from our store." Despite this Taco Bell is still a good place to work at even though you might have bad times with customers. Managers handle these types of situations quickly and effectively, and make sure that their employees are safe.
As a Taco Bell employee myself, I've experienced employees come and go, angry customers, and technology malfunctions. Despite all of this Taco Bell is still a great place to work for me and could be a great place to work for others.