The Fundamentals of Figure Skating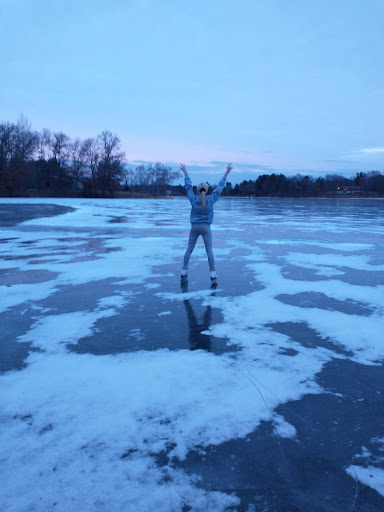 Have you ever been fascinated watching Olympic figure skaters jump, fly, and twirl across the ice? Or even wanted to try it yourself? Although figure skating is a tough sport, it's something everyone can learn how to do. With the right training, equipment, and advice anyone can learn to glide gracefully across the ice. 
Getting Started
The United States Figure Skating Association (USFSA) has a Learn to Skating program  that can get you started learning all the basics. So the first step is to get signed up for lessons through this program. Learn to Skate lessons are available at K.B Willett in Stevens Point and at Wisconsin Rapids South Wood County recreation center. There are several skate shops in the area where you can purchase skates, including Hazard Skate Shop located in the Wisconsin Rapids rink. Steve, the owner of Hazard Skate Shop, is very knowledgeable about how to get the perfect skates for skaters of any level. Figure skates are purchased based on skating level and are custom fit to your feet. 
Knowledge is power
The last key to getting started with skating is knowledge. Going to lessons constantly and practicing is what you need to become a great skater. Going to open skates is a great way to practice new skills and work on existing ones. Skating at outdoor rinks can also help but you need to be careful if the ice is full of debris as that can dull the blades quickly. 
Benefits 
Skating can be beneficial for everyone once you learn how to skate effectively. Katy Czerwinski is a USFSA gold medalist figure skater from Stevens Point who has been skating for over 14 years. She tells me "Skating is very beneficial in a lot of different ways. It could be really helpful for different sports too like cross training. Obviously skating is great for balance." Balance isn't the only skill skaters have to learn. Doing other sports like dance, ballet, cross country, or even gymnastics can help skaters master similar skills such as flexibility, balance, and poise. Skaters are constantly learning all the time. 
A learning experience 
As a figure skater, skating is constantly a learning process even for coaches too. Jesse Hoelzhammer, a Wisconsin Rapids figure skating private coach and former skater who has been skating for over 24 years, explains "I love how much skating teaches you. You are a student for life! I am always learning new things from those around me and new people that come into my life." Skating is constantly changing and evolving so there is always something to learn. 
Success  in Skating
Just like other sports skating comes with its successes and failures as well. Another coach Sandra Johansson, who has coached an international synchronized skating team in Sweden and has been skating for over 46 years, tells me "As a coach I love that kids get to fail tests and fall down. That might sound mean but it's the secret to success and a happy life. Fail forward! The best success happens right after they fail." In skating failure is what makes success. If you don't fail you won't have great success in figure skating. 
Skating Skills
There are also a lot of skills needed to succeed in figure skating. This is part of what makes figure skating so challenging. Jesse explains  "It's a lot harder sport than a lot of people think and a lot more work goes into looking "perfect" because it's anything but perfect." What she is talking about is performance. Performance skills are a big part of being a skater because you always have to look your best even if you aren't feeling like it even if you have to fake it till you make it. During tests and competitions skaters are judged on their performance skills and how they look while skating including having the proper expression. Skaters are judged based on artistic aspects such as choreography and flow as well as technicality like landing jumps, spins, or doing the element clean without mistakes. 
Technique
With performance also comes technique. Coach Sandra calls it her "recipe of success." She says "I call it simply technique, not simple technique. If you work hard at your technique, you will be successful. You can't just simply show up." Sandra learns her techniques from olympic coaches through the many seminars she has been to. Even for beginners technique is what makes or breaks being able to master a skill. 
Timeliness 
Another skill that can help make practices effective is time management. Katy explains "One of the biggest things I learned in skating is time management. Because you learn time management so much you have to make sure you're on the rink on time and you're staying focused at practice. You don't  get a lot of ice time sometimes so you have to make the most with what you have." Time management is a skill skaters need because it can help them practice effectively and make the most of their time with managing activities in their life. 
Mental Strength 
Lastly, in skating there are lots of helpful tips that will help you understand what it takes to be a good figure skater. The first tip is mental health. "You have to have a lot of mental strength in order to get through a program run though and you have to have a lot of poise and you just have to be very mentally strong when you are skating in general. Because a lot of it is a mind game. Yes it is physical but it is just as much mental as it is physical," Katy explains. Skating is a mental game because you have to be clear headed and focused while skating as well as be able to be in the right mindset to perform under pressure and do everything perfectly. If you don't believe and trust in yourself to do a skill then you won't be able to do it at all.  Mental health is just as important as being good at your skills because you can't do the skills under pressure if you don't mentally prepare for it. 
Goals
Another helpful piece of advice is to just focus on yourself. "If this is truly what you want to do and love, keep pushing through. Don't worry about anyone else and where they are at because you are on your own journey. Set goals that others may not see as possible and prove them wrong," Jesse says. It's important to focus on your progress and appreciate it because that's what matters most. 
Advice 
Katy also has some insight on one of the most important tips for a skater. " My other advice is to, again this is gonna sound cliche but it's really really true, is to don't give up. When you are at your lowest point just keep going, it will get better." Lots of figure skaters reach a point where they feel their progress is at a standstill but it's important to remember to not give up, be patient, and trust the process.
Why Skate?
 Overall skating is a great sport that offers much advice not only in the sport, but teaches lifelong lessons and skills that are helpful to all people. It benefits people in many physical and mental ways, teaches people lifelong lessons and skills, and is a great way to get exercise and stay fit. "Skating is a great sport and everybody should try it," Katy says, "At least try it if it doesn't work out try roller skating. Everyone should at least try it once in their life."