Housing After High School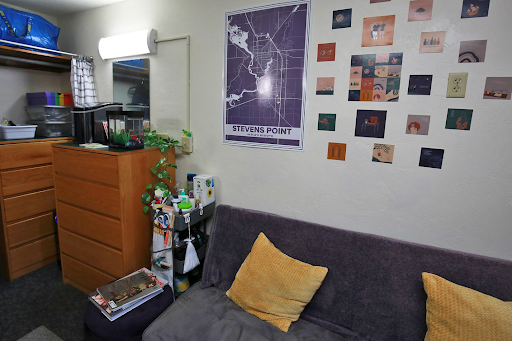 You've just graduated from your high school. You plan on continuing your education in an undergraduate program, but with that comes a complicated dilemma. Where will you live now? For some students, there are three main options that come to mind: On campus student housing at a university, apartment rentals, or living at home with family or relatives. All of these options have their ups and downs, but hopefully this guide will help you with your decision.
Dormitories
One popular option for university living is on-campus housing, or dorms. Student housing and the image of an ideal "college experience" generally go hand in hand. You are often much closer to classes and on-campus activities. It can also make meeting new people much easier
For incoming Freshmen like Kenzie Mayer, who is currently a Senior at SPASH, dorm life can seem like the best option for those who value a traditional college experience, "I'll hopefully be in Florida for college. Even though my grandparents are living there, I'd want to live in a dorm… Having the college experience is something I'm looking forward to. You get to know more people and the school." Moving to a new city or even a new state can often be overwhelming, and it helps to be closer to the people and activities on campus. 
Another great benefit of living on-campus are the many amenities available to students. Dorms offer a number of useful resources that can be beneficial to students and make the transition into adult living easier. Things like food, transportation, laundry, or on campus programs and utilities are often covered by your student housing fees. UWSP (University of Wisconsin Stevens Point) says it offers "…community kitchens, a computer lab, laundry facilities, study lounges, group meeting rooms, secured mailboxes, and recycling facilities" to students in each of its resident halls. Housing at UWSP costs between 2,200 and 2,300 per semester for a double occupancy room.  With that extra responsibility taken care of, you can focus your time and attention on meeting other students and school.
According to Student Housing Business.com, in 2018 the three most important accommodations ranked by students were WiFi (78%), laundry (77%), and utilities (71%).
While there are many upsides to choosing a dorm, there are some issues to consider. Living so close to another person in such a small space may become hard at times for some, especially with activities or classes that involve practicing an instrument, art assignments, or completing large projects. Affordable Colleges, an online resource for students says that "In some cases, especially underclassmen accommodations, can mean sharing a room or facilities with others with limited opportunities for privacy"
Renting an apartment
Sometimes, dorms just aren't the right fit for students. Whether you have pets, require more privacy, or just want the freedom that comes with having your own place, renting an apartment can be an advantageous choice. It can also be a more affordable option in some cases, depending on the city and state you are going to live in, and whether or not you plan to split the rent with roommates. 
The National Multifamily Housing Council, a non-profit trade and advocacy group for the apartment industry, says that "The average student housing rent per year for on-campus residence halls costs $7,717 per bed." This number varies quite a bit depending on what part of the country a person is in. Some may find the price daunting, especially for the little space and privacy dorms offer. 
Macy Lang, another senior attending SPASH, plans on living in an apartment along with her boyfriend when classes start at UW River Falls: "I don't want to be forced to do anything, or pay more for way less in the dorms. I want the experience of safely and comfortably living in an apartment until I can completely pay for it on my own." Macy, who owns several pets, also worries about leaving them in the care of someone else during the school year: "I don't feel comfortable leaving them with my parents."
Dorms can make it difficult for some to unwind and feel at home as well. Finishing a hard day of classes and socializing can feel that much more exhausting when your break from it all is in such a small space with another person. Affordable colleges notes that "Keeping up with schoolwork and grades can be easier for those who decide to live in an apartment. Students will have more privacy, both to unwind and to make sure they get their homework completed on-time." Apartment living is sometimes just the best choice for those who need more space, freedom, and privacy.
Living at home or with a relative
Many highschoolers find themselves in a housing predicament when they plan on going to college. Unless their parents have saved for their education, or they qualify for certain scholarships, student housing can end up being detrimental to their financial situation. Sometimes living at home, especially when you are located near a university, college, or technical school, is the best option. 
"I was definitely thinking about money," Danika Boquist, a Senior at SPASH commented when asked about her motivation for choosing to live at home during her first two years of college. "A lot of adults said It would be the most effective for me if I want to go to art school later on."
Sometimes living at home means compromising for a less prestigious school, but it doesn't completely shut the doors on an education elsewhere. It's not uncommon for students to complete all of their general courses first, before moving into a bigger school that focuses on their own interests. It's a much more affordable option to attend a technical school during these first two years and move to a university later on.
High school students aren't always prepared to take on the challenges of adulthood, especially with student housing and apartment costs being so high. "Being in highschool, you can't make a lot of money and have a full time job, and you are used to relying on your parents. It's really overwhelming when paying for things like school and housing and food falls onto you," says Boquist.
Living at home may not feel like the ideal experience to everyone. Some may feel like they are  losing the freedom that you get with an apartment or dormitory. Affordable Colleges says that "While living at home can be very grounding during this transitory time, students can also feel like they aren't getting the full 'college experience'." In the end though, living at home or with a relative can be a cost effective and comfortable alternative to on campus or apartment rental options.
In conclusion
In the end, your choice of housing after highschool is dependent on personal preference. If you are looking for a social and involved experience, then a dorm is probably right for you. An apartment is probably your best bet if you enjoy more privacy and space along with the freedom that comes with living on your own. If you are looking for a very affordable and convenient option, living at home or with relatives works out really great. Transitioning into adulthood can be a difficult task with college, bills, and grades to worry about, but taking it one step at a time and making your decisions early can make it that much easier.