Success is earned
Wyatt Cornell
THE MIRROR
Kevin Streveler, a wildly successful coach at Stevens Point Area Senior High (SPASH), has been coaching boys track and field for 31 years and critiques his approach every year.  Through his intense and particular workouts, his team has accomplished great things. A few of the team's accomplishments under Streveler since 2004 are 14 conference champions titles, 13 WIAA regional titles, nine WIAA sectional titles and 147 broken school and class records.
Have you coached anywhere else or coached any other sports?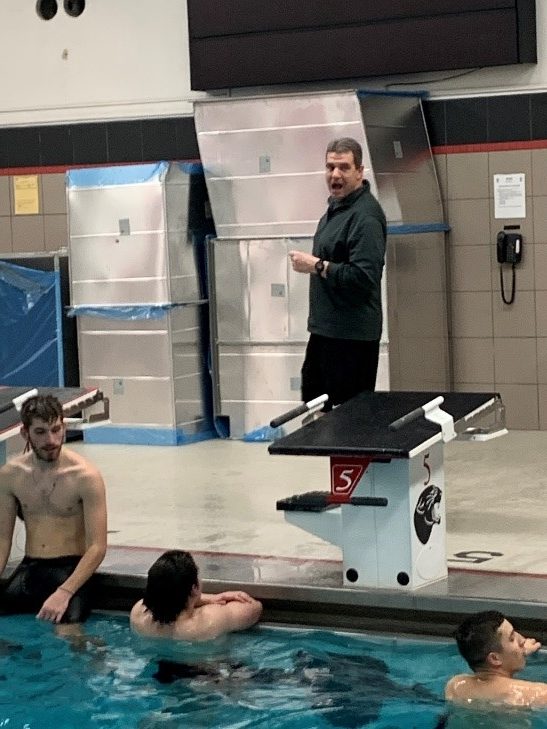 I coached track at Ben Franklin for two years, then at SPASH I was an assistant for 12 years and now I have been the head coach for 17 years. I coached basketball for a very long time, probably 20 years and football as well.
Do you enjoy coaching?
I do, I enjoy working with kids, I enjoy watching them get better, watching them improve, watching them work really hard for their ultimate goals, whatever they are.
What is your main goal in coaching track?
My main goal in coaching track is to have the best track and field team possible and my secondary goal is to then have the best sports teams possible at SPASH.
Why do you think you are so successful every year?
We get a lot of kids out, the kids are really really motivated, the kids want to get to state, they want to win conference because it is kind of becoming a tradition so we have been successful with that.
How important are your assistant coaches in the success of the team?
Extremely important, I wouldn't be able to survive without them. Between them and the managers, I don't know what I would do if we didn't have them.
Do you think it would be beneficial to have more coaches?
Absolutely. Track and field is described as a circus with a whole lot of things going on underneath the big tent. With there being 18 different events with three main areas and sub-areas it becomes very chaotic.
How have you changed your practices over the years?
I have learned a lot. Every single year we change something because you are learning constantly and things are changing constantly. You have to adapt and you have to change, there are things I wish I would have done 10 years ago that we do now. You learn and you get better at things and you figure things out and try to do what's best for the kids
What do you want the mindset of your athletes to be?
Give your best at all times, run fast and turn left on the track. Work to get better, if you're improving yourself, your form, your technique, your speed you are going to be a better track athlete and better athlete in other sports also.
What schooling or training do you have that makes you a better coach?
I go to clinics every single year. I'm constantly reading what other people do to try to make the best choices for our kids to make them better athletes.
What is RPR and how does it benefit your athletes?
RPR is "reflexive performance reset." It is a concept that involves resetting the central nervous system. Because your body is constantly in fight or flight situations, because it is constantly adapting to things that are going on it starts to affect you. RPR resets it to its normal state, which helps with relaxation which helps you perform better.