Seniors win Powder Puff 2017
By EMMA SCHULFER
The Mirror reporter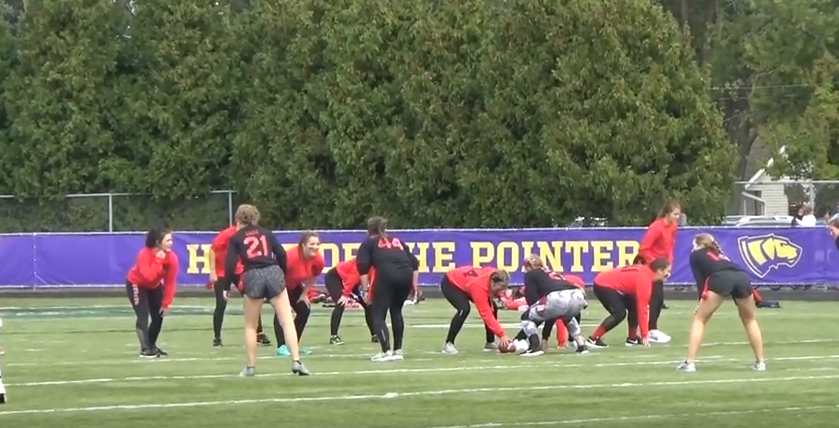 The Stevens Point Senior High juniors took a tough loss on Friday, Oct. 9 to the SPASH seniors during the 2017 homecoming powder puff game.
The seniors won with the score 6-0. This was the second consecutive powder puff win for the class of 2018. A junior team has only won three times in the past 25 years leaving the rest of the victories to the seniors.
Senior Halle Manville said, "It was a blast, it was exhilarating, I was the snapper so it felt very empowering."
Hannah Kolarik said,"I had a really good time and I enjoyed competing with my fellow classmates and that atmosphere."
Both the junior and senior teams are allowed to pick male student coaches the junior male coaches were Darren Zwicker, Nolan Blair, Matt Konkol and Blake Milkowski. Senior coaches were Eli Haas, Joey Hauser, Max Hofmeister and Tom Hatton. Both teams were scheduled three practice times during homecoming week.
A ten-yard penalty was given to the juniors for illegal practices held at Bluebird Park. Courtney Woyak said, "I think the penalty was unfair, the illegal practices were not organized and we accomplished nothing during them." Even with the penalty the juniors we able to keep the seniors from scoring the entire game sending the contest into overtime with the winning touchdown being scored by senior Halle Gregorich.
Rachel Placeway said, "The game did not go as I expected, but I still had fun.''
Megan O'Brien, aSPASH junior, said her favorite part of powder puff was "watching her friends succeed despite the loss."
Reese Gaber, SPASH junior said,"I thought the juniors played well, they were very unorganized but  it was a fun game to watch.''
Junior powder puff coach Zwicker said, "It was a tough loss but I can guarantee a win from these ladies next year.''