Luetschwager captures state title…again
By BRADY WOYAK
The Mirror reporter
Tennis is one tough sport, requiring great hand-eye coordination and athleticism to succeed but SPASH senior Emily Luetschwager makes it look easy out there on the court.
Luetschwager has been playing tennis since she was three years old, as her mom was her tennis instructor. Wanting to play high school tennis was her dream that became a reality.
Luetschwager always wanted to play high school tennis because she likes to play with her team and getting a chance to compete in state can be very exciting and fun.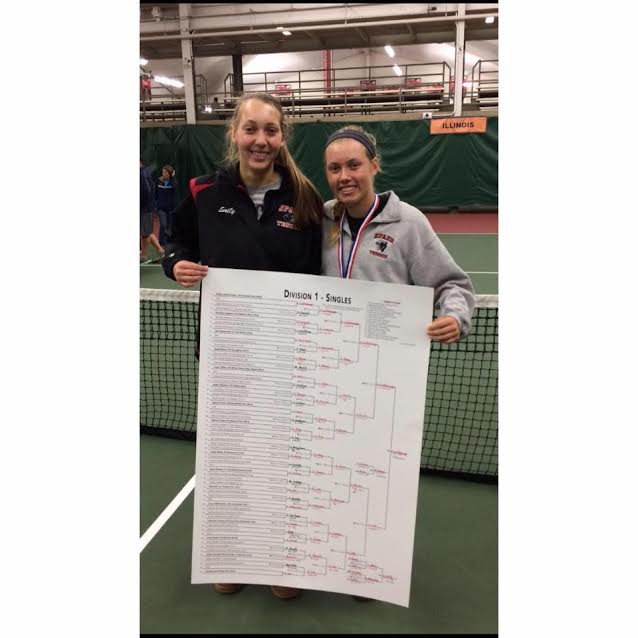 Freshman year she decided to join SPASH tennis with making it to state all four years of high school. Luetschwager took fifth in state both freshman and sophomore year.
Junior and senior year Luetschwager made it to state again but this time taking first both years and going undefeated with a record of 70-0.
She had a very successful high school career with a record of 130-5.
Luetschwager is a four-time Wisconsin Valley Conference champion, two-time sectional champ, and two-time WIAA State Tournament champ. She also received the Wisconsin Tennis Association's Frank Parker Junior Award. It is the most prestigious honor a junior player in Wisconsin can receive.
Luetschwager got a full ride offer from Colorado State for tennis and she took that up right away.
Luetschwager said she chose Colorado State because of how much she loved the campus and the academic program. She also said the athletics are a perfect fit for her. The coach and all the girls on the team are really nice and want to work hard to win.
Coach Trevor Knight said, "It was amazing to watch her play. No one ever really had to correct her, we just gave her small reminders and helped keep her confidence up. She's an unbelievable player and she
Knight also believes that Luetschwager is the best tennis player he has ever coached.