Daily Dose, Nov. 16, 2016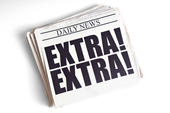 Local: All Portage County parks will be closed beginning on Nov. 19 due to gun season. Stevens Point City-Times reports that all ski trails, Tomorrow River trails and snowmobile trails will be closed. All areas will re-open on Nov. 28.
SPASH: Snow Club is forming at SPASH. They will be taking trips every Friday to Granite Peak.  Interested students should meet with  Paula Perron and Mr. Rady in North Commons after school on Nov. 16 or Nov. 17. The first trip will be Dec. 16. They need at least 20 people on each trip to cover costs.
National: The petition to abolish the electoral college has reached four million signers and already has ten states and the District of Columbia who have signed the compact. This totals 165 electoral votes which is already over 60% of the way to getting rid of the electoral votes.
State: An attempt to block the release of Brendan Dassey was unsuccessful.  Dassey was convicted in a case featured on "Making a Murderer." Business Insider reports that the attorney general asked federal court to put the case on hold. The state is appealing the ruling.