The Daily Dose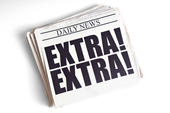 NATIONAL: NBC News reported that a Republican Party office was firebombed by an anonymous group on Oct. 17, 2016. The FBI and local authorities have started an investigation to try and find out who and why someone did this. The assailants wrote, "Nazi Republicans Leave Town or Else" in spray paint along with a swastika.
STATE: WISN 12 News reported that State Senator Rick Gudex has died due to a self-inflicting gun shot to the chest. Gudex was depressed but other motives are still being investigated.  Gudex was married with two children.
LOCAL: WAOW News reported that Plover police put a new citation in to effect that holds parents accountable for their children caught bullying. This citation is said to be not about punishment but about education. A $124 fine is what parents could face if their child is caught bullying.
SPASH: This Saturday the boys and girls cross country teams will be competing at Standing Rocks for the opportunity to run in the Wisconsin state cross country meet.