Subs in SPASH
With most schools being in person rather than virtual, sub shortages have become a big issue. Whether they get covid or have to take care of sick kids at home many more teachers have been out of school districts all around the country. With so many teachers out, many subs need to fill in but districts, including Stevens Point, are finding it to be a struggle, even with raised pay.
Unproductive days
The absence of a teacher's presence can cause unproductivity in the classroom. From an anonymous survey of 39 students, 80% of students said that little to no work gets done when Subs are in the classroom. Along with 11% saying that it depended on the sub. From a recent interview with English teacher, Ms. Brinkman, talks about having a frustrating experience she had with a sub recently this semester. The students in the class had reported that the sub had basically said since it is Monday you can do whatever you want. Ms. Brinkman said she had specifically put on the sub notes that students should not be on their phones and should be working on their assignment for in class. However, since the sub failed to explain what was left in the sub notes, it resulted in students accomplishing nothing and being on phones. This in turn caused Ms. Brinkman to question whether she thinks she needs to stay home if she isn't feeling well. She asks herself if she can try to find a way to be at school that day instead of having to get a sub in spite of what happened.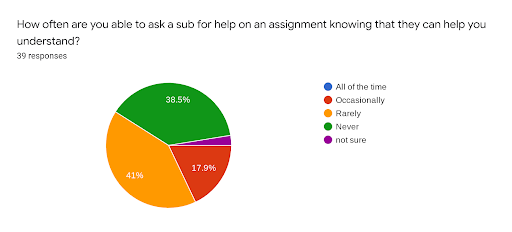 Difficulty to understand
Subs often find it difficult to teach lessons that they didn't major in. From the same survey of SPASH students, 50 percent have said that it seems that Subs have a hard time understanding what topics they have to teach. In addition, 33% of the students said substitutes sometimes have a hard time teaching. Many students at SPASH also struggle to ask substitutes for help on assignments. With no students being able to say they can ask a sub for help all of the time/most leads to students being confused and incomplete assignments. Overall, most of the time subs and students both find it difficult to teach/learn within the classroom.
Around the world
Schools all over the world are struggling with the issue of substitute shortages. "We ran out of adults to teach," stated superintendent Brett McFadden, from Nevada Joint Union High School District. "This year, our (Covid infection) numbers are even worse." Nevada Joint Union High School District, a school district in California is fearing they may have to go back to online learning. The district has 2,686 students within schools. By the time of the second week of the school year 60 students had already tested positive for Covid, as well as 3 teachers and 200 students in quarantine. Another School district in California, Konocti Unified, has tried to increase long term substitute pay and incentives but has still been struggling to fill teacher absences. This leaves other teachers within the school to fill in. If the teachers are unable to do so, students are divided among classes.
 Jan Northcraft, Stevens Point human resources coordinator, elaborated about how the Stevens Point Area School District uses Frontline, a database to request a sub. The Frontline  database employs 125 Teachers and Special Education Educational Assistants. All substitutes are not available every day though. Some decide to be available five days a week and some do not. There are also subs that will only work in certain schools or with certain grades. 
A dire change
In conclusion, the subbing situation is in need of a dire change. Students and teachers all around the world find the lack of substitutes stressful and this problem results in work not being taught and/or completed. In future years this may cause some students to fall behind in their education compared to their peers. Could this new strand of Covid affect the subbing situation even more? The world will find out soon enough, with SPASH students recently sent home.