Travis Scott Tragedy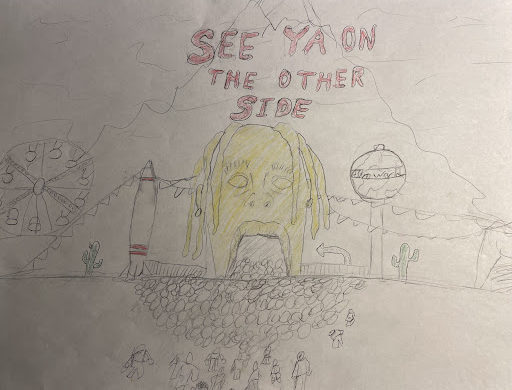 "Traumatizing, tragic, devastating, catastrophic" are not typically used when describing a music festival; however, Astroworld was not a typical music festival as described by festival goers. On November 5, 2021, rapper Travis Scott's highly anticipated annual festival Astroworld reopened at NRG Stadium in Houston, Texas, after being canceled due to covid restrictions in 2020. According to Forbes, tickets sold out in a mere 30 minutes. 
Unfortunately, the allotted tickets were not enough to satisfy Travis's fans and led to many of them finding other ways into the festival. Video  Footage shows festival goers trampling security, metal detectors, fences, police, and each other just to see their idol. As a result, this caused the festival to feel overcrowded even as smaller music creators performed. The overcrowded feel only worsened as more and more people arrived and excitement for the main show elevated. Then, after hours of waiting, the stage Utopia Mountain spat 50-foot flames, the countdown dwindled down, and Travis Scott emerged. Instant captivation hurled fans toward the stage, as they clamored at their icon. People in the front, smothered by the weight of those suffering the same fate behind them. Many looked for an escape or help from authorities but to no avail. At this point, most concert goers had a general apprehension of what was to come. 
The Main Event
Travis Scott's music echoed with cries for help and pleas to stop the show. Enthusiasm turned into dread as the show continued. Video footage shows the crowd surge collapsing on people with immense force. Scarce amount of staff desperately tried to evacuate those being crushed. A video posted by a concertgoer shows first responders in a medical cart being drowned in bodies with some fans even managing to get on its roof. According to an analysis done by researchers at Carnegie Mellon University, there was as little as 1.85 square feet per person. With no other options, bodies had to be crowd surfed to safety. In total there were 10 fatalities, 13 people hospitalized, and hundreds injured. Travis Scott only performed for 72 minutes, and the two-day show was canceled. The Houston Fire Incident Commander declared the scene a mass casualty incident.
Who's at Fault?
Travis Scott recently posted a lackluster video on Twitter addressing the incident and has received a lot of backlash since; but is he really the one to blame? Travis Scott is an obvious candidate, as he did little to intervene; even if he had no control of safety, he is the face of Astroworld. In addition, Travis Scott has built a reputation of inciting rowdy behavior in the past and has deemed his fans the name "ragers".
 However, Travis Scott's attorney states, "There has been multiple finger-pointing [sic], much of which has been by city officials, who have sent inconsistent messages and backtracked from original statements." A video captured by concert goer Alex Boro  supports this claim showing Houston police officers taking selfies instead of keeping the crowd safe. Alex added, "Everyone needs to hold [The Houston Police Department] accountable".
Some people believe Live Nation, the festival organizers, deserve to shoulder the blame, as they had no planned response for a crowd surge. Furthermore, past court records show that Live Nation was responsible for at least 200 deaths and 750 injuries since 2006. 
All of this evidence suggests that it was difficult for anybody to tell the severity of the situation at the time. With more lawsuits coming in daily, it is likely multiple sources are going to be held responsible for this tragedy. 
Remembering the Ragers
A recent report from the Harris County Medical Examiner's office has determined that the cause of death for all ten victims was accidental compression asphyxia. This report confirms the victims were suffocated at no fault of their own. These people are 9-year-old Ezra Blount, 14- year-old John Hilgert, 16-year-old Brianna Rodriguez, 20-year-old Jacob E. Jurinek, 21-year-old Axel Acosta, 21-year-old Franco Patino, 22-year-old Bharti Shahani, 23-year-old Madison Dubiski, 23-year-old Rudy Peña, and 27-year-old Danish Baig. 
Families of victims report that Travis Scott has offered to pay for the funeral of all who have passed. At this moment, the victims' family, friends, and everyone else are forced to try and make sense of this incomprehensible catastrophe. For every future event, it is vital we come together to ensure an incident like this will never happen again.