Flags Don't Speak Words but Voices Do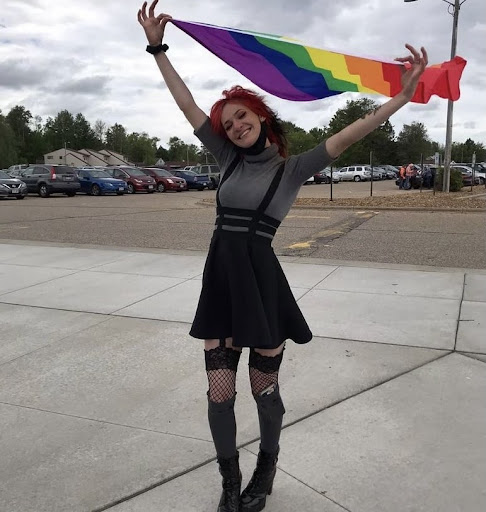 Last year at Stevens Point Area Senior High, there was a small protest in the SPASH parking lot where about 12 students protested the removal of Lgbtq+ flags. 
Students were told they couldn't carry their flags after conflicts that day involving offensive language and physical violence. The reasons ALL flags were banned from SPASH, was because it was a disruption to the learning and teaching being taking place in the school, according to highschool principal, Mr. Vollendorf. 
The Ban Was Not meant to Be a Form of Descrimination
SPASH has a no harassment policy that is stated in the student handbook. 
It includes that any behavior involving "descrimination," [race/color harassment, religious (creed) harassment, national origin harassment, and disability harassment], just like the descrimination some students experienced last year, will not be tolerated at SPASH. The decision for taking away flags was not targeted at any specific flag or group of people, but it was triggered when pushing and shoving was involved between the protesters. After those incidents, things had to change in order to for the disruptive behavior to stop.
"We're not wearing them as capes, we're not wearing them as belts. We can't do that right now because of the way people were behaving in response to that." says Mr. Vollendorf. 
But still, Students felt like they were silenced and things weren't actually resolved the way they should have been. Though flags were banned, you still might see a few or more students wearing a blm mask, or some with a blue lives matter flag on their hoodie. Mr. Vollendorf says that is completely acceptable, as long as it's not a disruption. 
Vollendorf hopes his school is aspiring to be an lqbtq+ safe zone and a safe zone for ALL the students who walk the halls of SPASH. The only way for SPASH to be a safe zone for all students, is in the hands of students to be inclusive of everyone and change the two-sided factor of highschool. 
Why Did They Keep on Fighting?
Even though one person of higher power believes that things are better just because of the removal of flags, doesn't necessarily mean that the problems of discrimination and harassment are eliminated.
Kat Upthagrove, a high school senior who started the protest, says, "Even though they tried to silence her and her peers, they all refused."
 Kat and other students protested in the cold for 2 hours at lunch. They waved their flags proudly in the air, even when slurs were being yelled at them. Kat was alarmed to see how split SPASH was, but she was also surprised at who she saw give the protesters support. Some of the students who were giving them thumbs up, were those she didn't expect to be allies. Kat believes that last year, she and the protesters were able to make a small difference. 
"I think it has to do with the fact, people realize they're not alone and they realize it's okay to be open." says Kat.
Although the diversity at SPASH is more normalized than a couple of years ago, Kat knows that everyone is just fighting the same battles, and therefore,  things can only change if we as a school acknowledge that things are not one sided and that everyone deserves to be equally respected.
What Holds in the Future?
After the events of last year; the future of bringing flags into school again is not an option as of now. 
SPASH principal says that it's not a good idea because of what he saw last year when flags were brought inside. The pushing and shoving is not something that can happen again, and it shouldn't have happened in the first place. If rules were to change, students would have to make sure the flags and their actions are not a distraction.
As a community, as a school, and as a younger generation who have the power to make change, the only way for things to change is if mutual respect is all around. It shouldn't matter where you come from, who you identify as, or what you look like. We are all human beings and don't you think we should be treated equally?