Nurses during COVID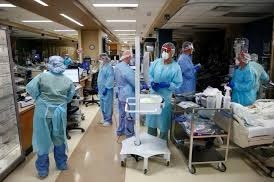 The COVID-19 case numbers in Wisconsin for now seem to be on the downfall from its high in September. According to the Wisconsin Department of Health Services, 84.8% of hospital beds are in use along with 86.4% of ICU beds. Regionally, Wisconsin hospitalizations are listed at no significant change or shrinking. These numbers help them to figure out ways to manage patient health. Nurses still struggle to upkeep mental health with the uncertainty of everything.
COVID has directly impacted the lives of many health care workers during this time. Mary Jo White of Aurora Sinai Hospital in Milwaukee was transferred to a COVID unit in March, as they were understaffed. She has not worked inpatient care in over 20 years. As COVID units were a quickly developed thing, they had to figure out where to put a mass of sick patients. Personal Protective Equipment (PPE) was in full effect at this time. In an interview, I had asked her about the PPE during the pandemic. Mary stated ¨It was on short supply, I wore the same mask until it became soiled or wet.¨ That alone made her nervous going into work everyday, since everything is so new and unknown. Mary does hope to get the vaccine and hopes other people do as well. 
The COVID-19 pandemic seemed to hit everyone quite hard, and in different ways as well. March 2020 was the start of a first national pandemic. Every day since, people have been nervous about everything happening. Grocery stores, bars, hotels, and communities shut down and drifted apart. For some, depression has increased from being stuck at home. Including those hard at work on the frontlines. As for others, depression was at an all time low as they were spending quality time with family and catching up on sleep. ¨Everyone has a different way of reacting to stress" says the CDC.
Nurses have endured a long, hard road within the last ten months. They can barely see family and friends, work night shifts, and attend to countless sick patients a day. All doing it with increased numbers each day, and not knowing what's to come. They are true heroes in today's society.