Nebraska: Bruce's Melancholic Tour de Force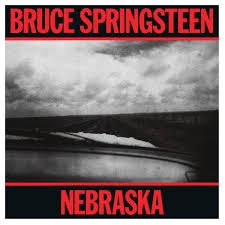 "Seen a man standin' over a dead dog lyin' by the highway in a ditch" might be as disturbing and puzzling imagery can get in the first line of a rock song, but it works! Bruce Springsteen delves into the inescapable crime and poverty surrounding his newest batch of heroes and sinners: the deeply flawed brothers, lovers, fathers, and sons who cannot seem to catch a break. Completely contrasting the bombast of his previous rock ballads, Springsteen converts to a wise, somber raconteur in his 1982 album, Nebraska. The airways never caught on to the ten track set, as it continues to contend as the Boss's most underrated work.
Nebraska's release represented a divergence in Springsteen's music. Bob Dylan and Van Morrison-inspired records encapsulated his early work, "Born to Run" paved the way for his trademark sound, but Nebraska was a complete curveball.
Bruce recently came off of a highly successful tour of his fifth studio album The River which was his third consecutive triple platinum album in the United States. Three years later, Born in the USA would resound through the boroughs of New York City to the desolate shacks of rural Montana cementing Bruce into rock and roll immortality. The album captured an impressive sense of radio whose track's boasted a bona fide rock anthem and multiple relatable party tunes.
But wait. Born in the USA to Run is Bruce three years into the future. Where is he now?
At this moment in time, September 30, 1982, Springsteen released one of the most depressing and tragic albums by a rock artist since Chuck Berry set the scene for rock and roll with "Maybellene" and "Johnny B. Goode." Bruce Springsteen and the E Street Band were already mainstream, and in a few years they would be chilling in the musician's Mount Olympus with the likes of Prince and Michael Jackson. But for now, a 41 minute folk rock album would become the true test for Bruce fandom.
Bruce introduces the album with a murderous escapade concluding with the convicted narrator responding to the sheriff's question as to his motive with "there's just a meanness in this world." Right off the bat, Springsteen establishes the theme of isolation that will reverberate throughout the experiences of many of Nebraska's characters and the myriad of vague answers surrounding their actions.
"Mansion on the Hill" and "Atlantic City" continue Bruce's introduction to his character's whereabouts, chronicling the jobs, homes, and lives of the unfortunate impoverished souls hoping for a little bit of extra something to survive.
"…debts no honest man could pay" is a quote from Bruce's 4th track on the album "Johnny 99" which is the first of three consecutive songs, along with "Highway Patrolman" and "State Trooper", detailing the contemplations and rationalizations of criminals and their family. The trio of songs includes characters such as Johnny who reverts to crime as it becomes the only means to earn a living, and Joe Roberts–an Ohio sheriff–who narrates the criminal activity of his brother, ultimately letting him escape arrest. "State Trooper", narrated by a fleeing convict, pleads for forgiveness of past sins.
Nebraska ends with "Reason to Believe", an allegory masquerading as a hopeful conclusion to the tense anguish of the previous 35 minutes, yet provides the albums' signature, thought-provoking lyrical masterpiece. When asked about the final track, Thomas Wetter, Bruce Springsteen fanatic and UWSP professor responded with "He is just laying out that the human condition will allow you to keep going without logical reason." "Reason to Believe" asks why people remain sanguine in such despondent times and questions the sanity of these beliefs. The consensus surrounding the track radiates hope and future prosperity, a much needed breather from the themes present throughout the album.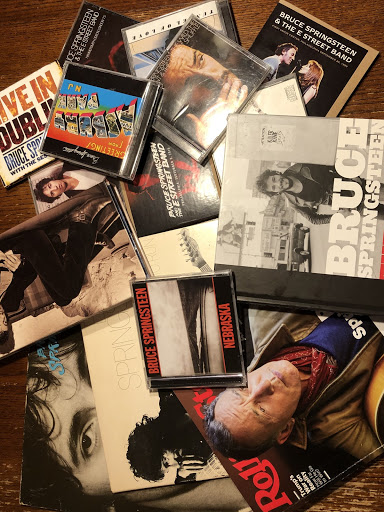 Every quote from these songs depict the artistry and craft involved in creating a story, multiple stories, or even a whole world completely dictated by the preachings of a knowledgeable orator, such as the Boss, while remaining entertaining. In a 1982 review of Nebraska, Robert Palmer, the New York Times esteemed music critic wrote that "Any artist who confronts the world around him in an attempt to define a set of values and a reason for living is running a risk." Bruce confronted the world like no one else could, and the risk paid off for his most dedicated fans who continually revisit his most unique-sounding composition with open ears and open heart open mind. These are the fans who get inspired by the way Springsteen can belt about a dead dog in a ditch and later become mesmerized once they realize they are on their third listen.
Looking past the energetic and hopeful tone displayed in many of his more popular tunes, an avid listener can observe the orphic prose unmistakable in songs hidden deeper in Springsteen's legendary trove. Nebraska is that hidden gem, a storyteller's dream. Pained folk lyrics pair with haunting chords to describe an all too relatable world for the average Joe. Reciting chapter and verse on the human struggle until it leaves us stumbling back to where we started with a faint taste of hope on our tongue and an even fainter feeling of optimism. Nobody knows when we started listening to Nebraska, but everybody knows when we will stop. Never!