Covid – Does it Affect Us All The Same?
As the numbers of positive cases have reached nearly 5,000 in Portage County as shown on the Portage County Health Department's website, health care workers are asking people to change their behaviors in the midst of the holidays and people tend to spend more time with others outside their homes. People should take the virus more seriously so we can flatten the curve and get back to normal.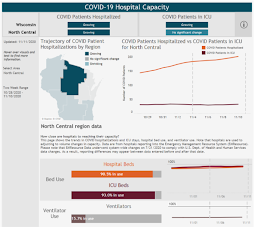 Some of those with coronavirus are admitted to the hospital.  According to the Portage County Health Department, as of December 8, 213 people in Portage Country have had symptoms so severe that they needed to be hospitalized since March. Unfortunately, there have been 43 deaths in Portage County in that time frame. 
Each person that contracts Covid can have varying symptoms.   Some people with positive cases can have few symptoms; yet some people, although not hospitalized, still have serious symptoms. I interviewed three sources, two who are in their 40s and another person who is 13 years old.   One person had severe joint pain and could barely walk without pain for several days. Another person shared that she is still having chest pain and congestion several weeks after her positive diagnosis. 
Most cases are short-term illnesses, but it is still important to take precautions.  According to the Mayo Clinic, "It's important to remember that most people who have COVID-19 recover quickly. But the potentially long-lasting problems from COVID-19 make it even more important to reduce the spread of the disease by following precautions such as wearing masks, avoiding crowds and keeping hands clean."
According to the article in the Stevens Point Journal, roughly 3.5% of COVID-19 patients are hospitalized, and about one in four of those patients will need to be treated in an intensive care unit. Based on those estimates, 1,521 people would need to be hospitalized — and 380 would need ICU care.  Although to most people huge amounts of COVID 19 patients in the hospital doesn't seem too bad or not our concern, the hospitals are struggling.   With all the people in the hospital, hospitals can't keep up with the demand and help others without Covid. 
There are also less severe cases, such as the thirteen-year-old person that I interviewed who was very tired and had cold-like symptoms. Some people think that the virus is not that bad. An article in the Stevens Point Journal states, ¨Now, many people — particularly those who are younger or without medical conditions that make them more susceptible to severe complications — expect to experience only mild symptoms if they become infected. The result has been a certain amount of acceptance, even fatalism, about the pandemic — and that, too, has made it harder to change people's behavior.¨
People also don't like to be restricted from all of their normal activities. An article in the Stevens Point Journal says, ¨What has been called pandemic fatigue is widely acknowledged. But the recent surge also has hit at a time when many people have simply become less fearful of COVID-19.¨ This shows that people have become more relaxed with their behaviors when around others that are close to them.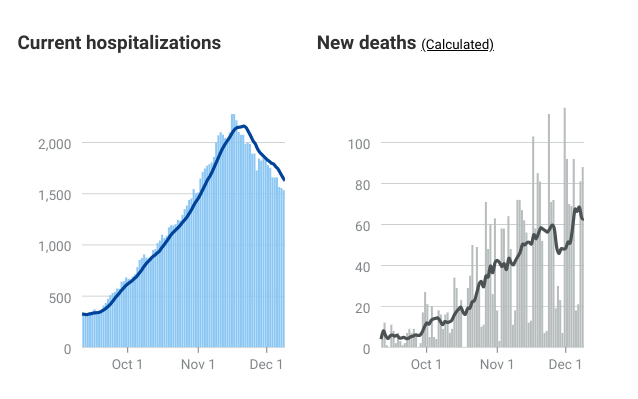 It is hard to watch loved ones suffer.   Watching them not be able to move without pain or cough so hard that it hurts. The effects that last for weeks.   We need to stay home, stay safe and then there is less chance of us having our family members suffer or even die from this disease.
People need to take the virus seriously.