Covid-19 Cases Rise Across Stevens Point Schools as Students Come Back from Summer Break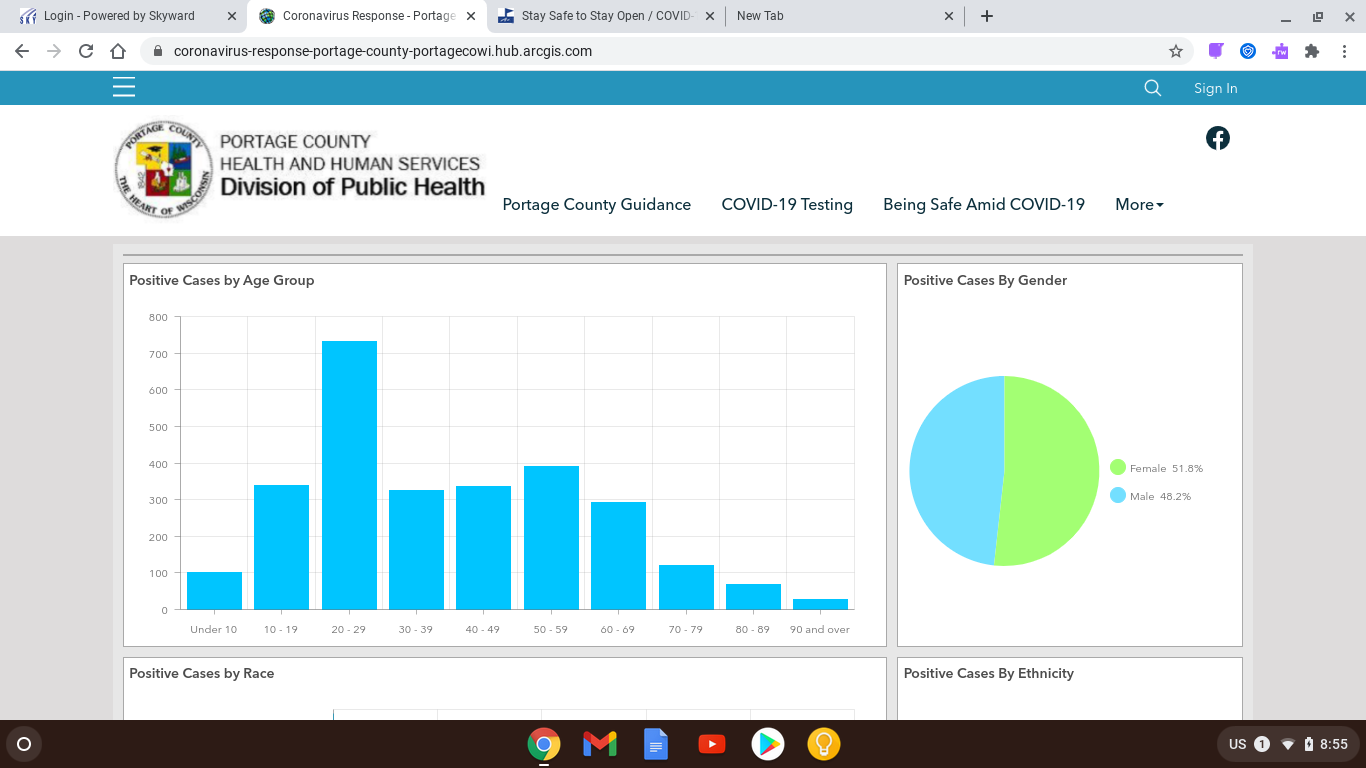 Back in March 2020, SPASH students were expecting to have an extended spring break when it was announced that they would not need to come to school the week after break. But what was supposed to only be two weeks turned into the longest spring vacation of their lifetimes. Students also got their first ever experience of full time online learning. When the students returned to school after six months in September, schedules changed, class sizes were smaller, and face masks were mandatory. Not only that, students were also welcomed with the newly constructed lunch area which made social distancing during lunch a lot easier.
According to Portage County Health and Human Services, the age group 10-19 years old has a total of zero deaths. This group has had 328 positive cases as of October 27th, 2020 which is about half the number of positive cases of 20-29 years old, the most affected age group in the area. Around one quarter or 27 percent of these cases come from members of the Stevens Point school district.
SPASH has the highest population out of all schools in the district, which makes it understandable that it is also the school with the highest number of confirmed cases with a total of 21 cases (students or staff) according to the Stevens Point Area School District website since April 2020 until October 27th, 2020 which is about 1 percent of the school's population.
Due to the sudden change from in-person classes to full time online classes back in March 2020, many students have struggled to perform at the same level academically according to Mrs. White, English teacher at SPASH. She also said that she "felt worried academically and emotionally for the students." Because of this, the school decided to use pass and fail grades semester two of last year only instead of the usual grading scale in order to not cause a big difference in everyone's GPA. However, the normal grading scale is now being used again after summer break.
Students had a hard time getting used to online classes. In an interview with Christopher Lor, a junior at SPASH, he said that he believes the school is handling this pandemic well, with the mandatory face masks, hand sanitizers in every classroom, and new schedules. He also said that he struggled with online classes because it is something new that he had to adjust to. As Lor has experienced, it wasn't easy for most students to keep up with the new schedule because of Covid-19. Students don't have a choice but to deal with this situation so they just have to do it as best as they can.