'Jesus Is King', The Bad Apple in Kanye's Almost Perfect Discography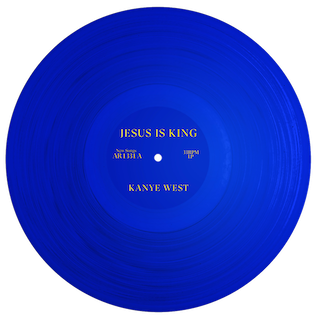 I wanted to like Kanye West's latest album, Jesus Is King, released in October of 2019 so badly. Kanye is my favorite artist and he rarely disappoints, especially when it comes to albums. His fifth studio album, My Beautiful Dark Twisted Fantasy, was widely well-received when it was dropped in 2010 and was named the number one album of the past decade by Complex, one of the most prominent news networks in pop culture. Clearly, Kanye West has set the bar very high for himself. However, his latest gospel album, released in 2019, seems superficial and almost sounds as if it was patched together last minute.
In 2018, Kanye was set to release Yandhi, his 10th studio album. Most of the album was leaked and fan response and hype was huge. However, after skipping the album's release dates twice, he scrapped most of the album and reworked most of it into his new Christian philosophy, leaving no profanity and changing almost all the lyrics. In the song Selah, Kanye teases his fans with the lyrics, "Everybody wanted Yandhi/Jesus Christ did the laundry." Seriously Kanye? 
In an interview with Zane Lowe from Apple Music, just before the release of Jesus Is King, West spoke about his faith and how he wanted to preach Christianity. West states, "There was a time I was letting you know what high fashion had done for me, I was letting you know what the Hennessey had done for me, but now I'm letting you know what Jesus has done for me, and in that I'm no longer a slave, I'm a son now, a son of God. I'm free."  Kanye is speaking about how Jesus Is King is a breath of fresh air compared to West's usual themes of fame and partying in his music.
You'd think that somebody making a gospel album and hosting Sunday services would honestly be genuine about his or her faith, right? However, this is Kanye we are talking about. His track on Jesus Is King, "On God", is the polar opposite of his track on Yeezus, "I Am a God." 
We are so used to Kanye's ego and his confidence, that his lackluster performance and production on JIK just makes fans of West suspicious of the real intent behind the album. Kanye has been through some rough waters with the public recently, and it is entirely possible he's made this album to try and win the public back. 
My own mother has been skeptical of West's newfound faith. Then again, she's never been a fan. When asked if she thought Kanye was genuine about his newfound faith, she stated, "I think that he believes it's genuine. I'm worried that he's just manic, and that it's just another one of his episodes." My mother is talking about how West is outspoken about his bipolar disorder and his struggle to create while under medication.  "I worry about the message he sends to others about treating mental health, I think that it is possible to be creative while under medication."
At the end of the day, Jesus Is King is everything it claims to be: A gospel album. But coming from a Kanye fan or even a hip hop fan's perspective, the album was hollow. Sure, it has its moments in tracks like 'Follow God' or 'Selah', but for the most part it's disappointing and lacks heart. Jesus Is King is the 'Judas' of Kanye's near perfect album-run.