Lines waiting for doors to open at Taco John's
Noah Viegut
THE MIRROR
Taco John's opened up on Tuesday, March 3 and the students at Stevens Point Area Senior High (SPASH) were very excited. SPASH students flooded Taco John's during their lunches and stuffed their stomachs with tacos and other food.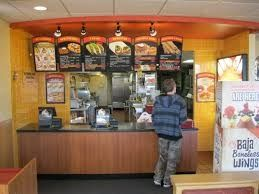 Many SPASH students waited in the long opening day line to get a taste of Taco John's food especially because they offered free Potato Oles for a year to the first 100 customers.
Student Lionel Perkins was at Taco John's when they opened and won free Potato Oles for a year. Perkins said that it was worth the wait because he was given "The Golden Ticket which gives you a year's worth of Potato Oles."
Perkins said he had only been to Taco John's once before opening day. "I enjoy the higher quality than Taco Bell," Perkins said.
The wait in line was over an hour at its longest. "On this particular day I didn't get anything but with the Golden Ticket I plan to get Taco John's every week," Perkins said.