The Mirror reflects on the year with Jon Vollendorf
NICK PEOTTER
The Mirror
Our principal wears many hats. He's the one who makes decisions that nobody wants to make. He delegates all the teacher and faculty to run the school. He manages the schools budget, he orders school supplies, he schedules maintenance and construction, he makes plans for everyone's future, and he makes sure that we are all safe.
Jon Vollendorf has been involved with education for 26 years. He started as a summer school teacher in Shawano, then became an English teacher for many years until he made his way to vice principal. He moved up to a district administrator position for a year, filled in the spot for PJ's principal the year after and has now been the SPASH principal for five years.
If anyone has a good gauge on how the 2018-2019 school year went, Vollendorf has the experience to compare.
"How well did this year go?"
"It was a unique school year. Overall it was a great school year."
"What made this year unique?"
"The thing I'll remember most about this year in the crazy weather affecting our schedule. That was historic. We missed 10 days for ice or snow and the last one was flooding. That's never happened before. It has caused a lot of shuffling and scrambling with AP classes trying to get those tests in. All things considered, people are handling it well. It's definitely accelerated the year, especially through third quarter. That stretch from winter break to spring break seems to take forever, this year it didn't, it was like boom, spring break, now it's the end of the quarter."
"What are your biggest concerns for next year?"
"We're trying to be really proactive for that next year. In fact, we've been working with our district to see how we can use things like Schoology to deliver lessons when we're not in school. When we can figure out how to do that well and get all of our teachers to do it then we can count that as instructional days.
"The other big thing with next year is the referendum and the addition we will be putting on the commons, so I'm going to have to stay on top of the projects as they're being done."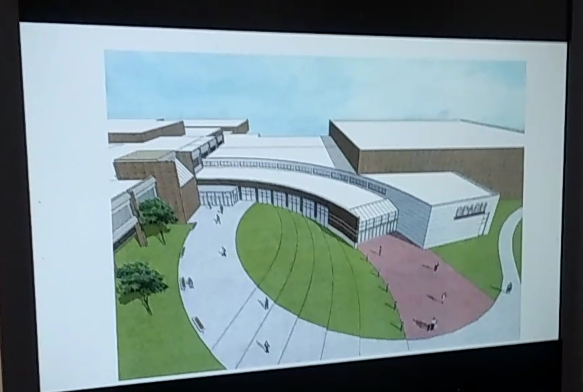 "How does SPASH compare to other schools?"
"We're very lucky, our community is second to none when it comes to that. It's an extremely supportive community that wants what's best for students. This high school was built in 1972 so there's a lot of places that have newer buildings than we do, but with the commons addition, and the tech ed addition, we'll look a lot nicer. The field house will be getting a bathroom, and there will be two unisex bathrooms by the auditorium so we will be way ahead of the curve there. North commons will be for study, and we will have a permanent food court with a bigger kitchen by the fully enclosed south commons. Seating in commons will be great for eating with booths, high café tables, it's going to more of a collegiate environment. Sorry we didn't get it before you graduate."
"What area of SPASH needs the most improvement?"
"Just about all of it needs improvement, the tech ed department, the commons for sure, the lighting is all going to get redone, the roof is going to get finished. I'm sure you've noticed some of the leaks we've been getting. The auditorium is eventually getting a revamp with new carpeting, seats, step lighting, it's going to be really nice."
"Where's all this money coming from?"
"The referendum that was passed will give the district $75 million to work with. I'm not sure what the SPASH chunk of that is but there are 13 buildings in the district so that's going to get spread out. The $75 million will be given over time as well, probably over the next 10 years. And the major construction on the commons might take a year and a half to complete."