The Army that meets community needs
By MADISON RINDAHL and MARYANN SILVA
The Mirror staff
Have you ever wanted to join an organization that helps the community? The Salvation Army provides an opportunity to help the community and meets peoples' needs without discrimination.
The Salvation Army is a Protestant Christian church and an international charitable organization whose message is based on the Bible. Its ministry is motivated by the love of God and to bring joy to families across the world.
During the holiday season, the Army gets around 100 volunteers or more. When the holiday seasons are over the number decreases. Weekly they tend to get about  10 to 15 volunteers. No matter how many people are volunteering at the time, the Army could always use more help.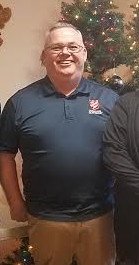 "You don't have to be a Protestant Christian to volunteer at the Salvation Army. We do however have to do a background check on all individuals who want to volunteer and work here," the director of Salvation Army Ed Wilson said.
The organization has been around since 1865. It originated in England and has been in Stevens Point for 30 years. The Army helps in 130 countries around the globe and serves 25 million Americans annually.
The Salvation Army is needed here in Stevens Point to serve the poor because of the high rate of homelessness. Homelessness is a major problem that the Army is trying to help and they provide a safe place to sleep for 48 hours. People can bathe and get served three meals a day for free.
"Rather than separating families in need by gender or age, our family shelters help parents and children of all ages stay together. In addition to providing temporary homeless shelters, we provide families with meal-planning, utility, and long-term housing assistance," as stated on the Salvation Army United States of America website.
In the main entrance of the Salvation Army, there is a community room that has clothes and hygiene products or anything that the community of Stevens Point has donated. The people may go into the community room and simply take what they would like from the items donated.
During these winter months, it's very critical that the people who are homeless get what they need to stay warm. Just come in and drop off any donations. Everything is accepted.
"The Army is needed because we help serve the poor in our community. We help those in need and we gear our programs to the specific communities," Wilson said.
The Salvation Army covers a lot of areas of needs. Sixteen major needs are listed on the website. Two of those needs are serving the Lesbian, Gay, Bisexual, Transgender, and Questioning (LGBTQ) community and also helping people with alcohol and substance abuse.
A common misconception is that just because the organization is part of a Protestant Christian church that it will discriminate against those who are part of the LGBTQ community but that's false. The Salvation Army USA served nearly 25 million people in 2017. In every ZIP code of America, services are offered without discrimination.
Almost one-third of homeless transgender people have been rejected from an emergency shelter. "When a transgender person seeks help from us, we serve them in the same manner as any other person seeking assistance,"  the Salvation Army said.
Anyone that is in need, will always get the help they need it.
Substance abuse is another major area that is in need of attention. Every day in America, over 6,500 people are hospitalized for substance abuse. That's 6,500 families with moms, dads, and kids disrupted by the effects of drug and alcohol addiction. The Army helps through holistic work therapy, group, individual counseling sessions, spiritual direction, and life-skills development.
"By developing a personal relationship with God as provided by Jesus Christ, many residents learn to depend on God, rather than drugs or alcohol, for hope and relief," said the Salvation Army USA.
Many who have been rehabilitated at the Salvation Army are reunited with their families and are able to resume healthy daily routines. The kids get their parents back and people get their lives back thanks to the programs that the Salvation Army provides.
Some future goals for the Salvation Army here in Stevens Point are to get a $30,000 grant from the government in January to expand family housing so families can have their own living quarters where kids can be kids and families can feel like they're at home.
"We get more of the older generation that comes and volunteer. We would like to see more of the younger generation come in and lend a hand," Willson said.
The Salvation Army encourages the youth to lend a hand in volunteering. It is important for people to understand the needs of others and to know how to better the community in which they live.
The Salvation Army provides ways for the youth to get involved in helping others. Such as donating money, donating goods, and creating a fundraiser.
The Salvation Army is a great way for people to serve the community. By spreading God's love and serving the community the Salvation Army will change peoples' lives one city at a time.