Living off the land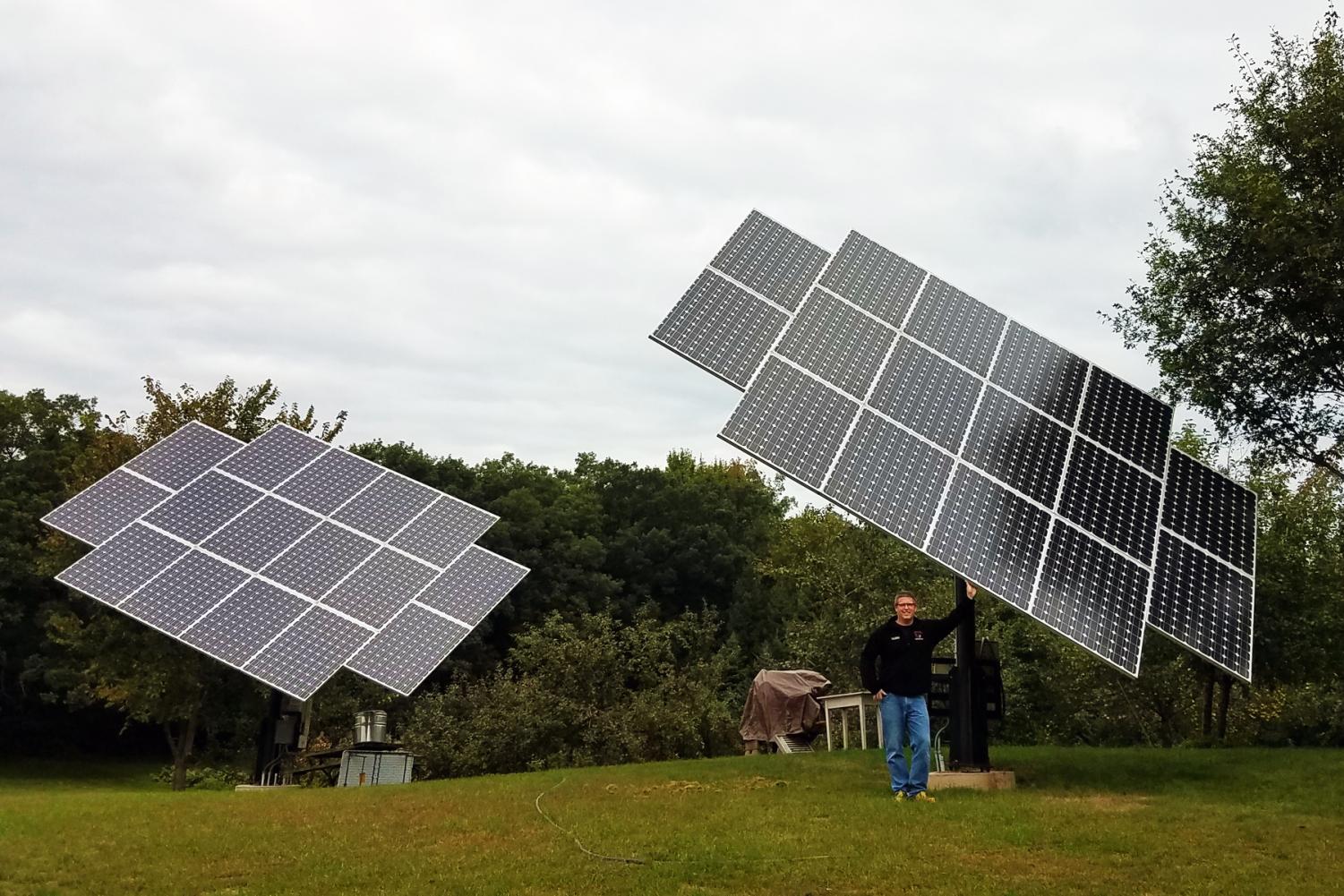 By RACHEL PLACEWAY
The Mirror reporter
Stevens Point Area Senior High's (SPASH) own Steve Harris is working hard to reduce his carbon footprint on the earth. By changing and improving everyday essentials, Harris and his family have been able to live very efficiently throughout the years.
Steve Harris installed two large solar panels, one of many ways Harris is reducing his carbon footprint. (Contributed photo)The environmental friendly lifestyle has always had an impression on Harris. "I was a Boy Scout growing up, and I had a really big interest in going to Boy Scout camps and during adventure leadership and spending time out in nature. And then my grandfather had a farm in Iowa so I would spend holidays and the summer out on his farm, down by the river and out in the fields."
His passion for the outdoors led him to work in the field as an urban forester. After about two years in the field, Harris went back to school to receive his degree in broad field science and biology. Those degrees led him to become the teacher he is now.
When Harris moved out of the city and bought land in Custer he started thinking, "What do I want this to be in 20, 30 years from now? How do I want this to look?" Harris and his wife developed a long-term plan to use their land caringly and fully. They wanted to be good stewards of the land.
The first part of the land that was developed was the pasture. Currently roaming the pasture are a few of Idaho grazer pigs, Dwight, Creed, and Pam. Unlike your commonly known pigs, Idaho grazers protect the growing fields by not dig holes.
Along with pigs, the Harris family raises bees, laying hens, broiler chickens, and laying ducks. Each animal is used to lower the cost of food as well as other expenses. The laying hens produce the eggs used in meals. The bees produce honey, which Harris's wife uses as a supplement for sugar.
In addition to the family's regular food source, each spring they purchase approximately 200 broiler chickens. By selling about 160 of the broiler chickens Harris is able to invest some money back into feeding the animals. The broiler chickens are kept in a moveable shelter and pulled through the orchard to fertilize the apple, pear, plum, cherry, and grape plants.
Together with the orchard, every year Harris plants a garden. The garden will produce enough vegetables for the family to can and preserve for the entire year, yet again, saving the family grocery store expenses.
When it comes to energy use, Harris has found alternate sources for heat and electricity. On the land, there are two huge solar panels that produce an abundant amount of electricity. Although the cost of the panels was more expensive than electricity bills, it is calculated to pay for itself in the years to come.
Fossil fuels are becoming scarcer every year and the use of an alternative source has become widely popular. Harris has caught onto the trend of geothermal energy which can heat and cool a house very efficiently. "We try to be conscious about what we eat and grow and what we're taking care of," Harris said.
"We got to get people to take small steps…. We got to get rid of the idea of perfection…. We need to work on open-mindedness and excepting different views and cultures…. Accepting responsibility for our actions." These are all beliefs Harris thinks everyone is capable of performing to preserve the environment.